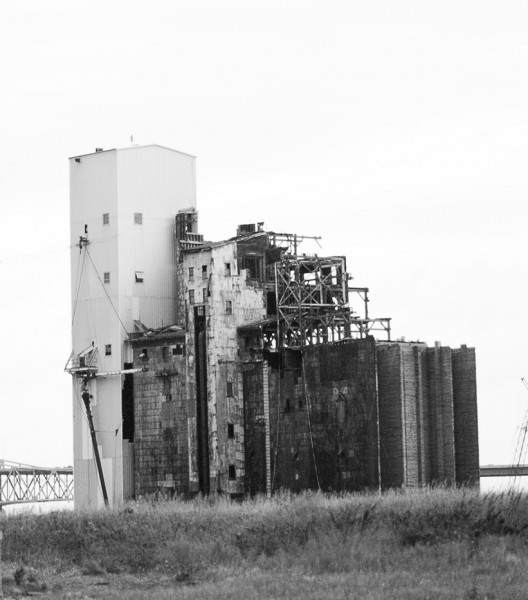 Greetings from Duluth, Minnesota!  I'm here on business so can't post all the awesome photos I'm taking of and on giant boats loading coal, grain and iron ore.  It's really the best part of my 9-5 job. Every now and then though, between visits, I can stop my colleague and tell him to hang on just one second while I snap something cool on the docks.  The abandoned grain elevator (?) to your right there is one such snap.  There's a whole bunch of stuff like that out here and abandoned stuff is definitely one of my favorite photographic subjects.  Too bad I don't have time to get those shots or access when I'm not following around my colleague.  For now I'll have to be satisfied with the passing glance.  Onto the roundup!
On the Web
Each Tuesday, I post a roundup of the best stuff I saw on the internet that week.  Enjoy!
Around the Solar System via The Big Picture
I don't always click on Boston.com's The Big Picture - a collection of awesome photography on various subjects - but I do always click if the photos are from space.  I will never tire of looking at photos taken from outside our atmosphere.  How fascinating the universe is!
Binder clip keeps beverages stacked in your fridge
Genius!
Ant Death Spiral via mental_floss
We know that ants figure out where to go by following a scent trail left by their buddies.  In this amazing video clip, you see that played out to an unbelievable end - a "death spiral" that can last for days.  Really fascinating!
Undercover Surveillance FAIL
I admit it, I subscribe to failblog.  Mostly the posts are dumb but sometimes they are awesome, like this one.
XKCD on physicists
My husband is one, so I'm sorta obligated to include this link.
Amsterdam Falafelshop to franchise!
If that doesn't make sense to you, the article won't be interesting.  For us D.C. falafel fans, it's the best news since Congressional recess.