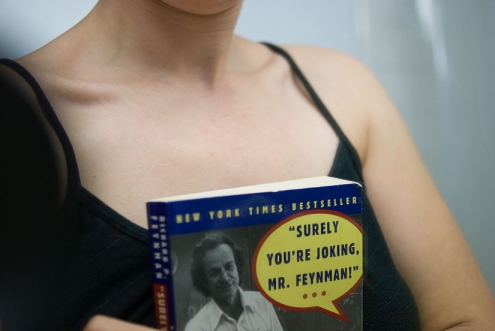 Some books are brilliant in their own merit - funny, thoughtful, fascinating.  Other books are very difficult to judge objectively because they are so important to you or someone you love.  I fear I may be falling into the latter category here with
Surely You're Joking, Mr. Feynman!
, the first in a series of short, playful autobiographies by the Nobel-prize-winning physicist Richard Feynman.  Then again, it's exactly the kind of book that pushes my buttons and gives me that insatiable itch for adventure.  I must, in the end, enthusiastically endorse this book. The autobiography is laid out in a very engaging way - short chapters that cover one specific interesting anecdote, story, or period in his life.  The man had a lot of fantastic adventures in his time.  The book is indeed funny, thoughtful and fascinating!  It's also an interesting look into the past.  Feynman worked on the bomb at Los Alamos and on a host of other important physics problems.  He can be a pompous ass about recounting his role in these things and his "humility" isn't believable for a second, but you almost don't care because you're wrapped up in his story. This book was also immensely fascinating for me to read because I see so much of my husband in Feynman (which, of course, is why he gets to be snuggled up with my bosom - something I doubt Feynman would much have minded either).  This can mean that either George is naturally like Feynman or was so heavily influenced by the man and his work that he has developed similar outlooks on certain things.  In any case, it was like meeting his mother or reading his childhood diary.  I felt like I was uncovering a whole new layer.  You certainly won't experience this reading the book, but perhaps you can understand my perspective from having read other books that were near and dear to your loved ones. I'll also share a little story from way back on our second or third date.  I was seeing George's house for the first time, and he had another autobiography laying out, entitled
What do you care what other people think?
I thought he was kind of a loser for reading self-help books, and so proceeded to tease him mercilessly about it.  He was hard-pressed to convince me that the book was an autobiography of a famous physicist!  But he did, and everything worked out for the best. I hate to admit that George was right, of course, but I did heartily enjoy the book and I will likely continue on with the series.
12 Books
This post comes to you as part of
E
's
12 books in 12 months
project.  The goal is to read 12 books in a year – 12 books that we might not ordinarily be too motivated to read, but that have been on our to-read list.  I think it's about time I got to the erotica, so I'll put
Story of O
on my next-up list. 1.
Story of O
, Pauline Reage
2. The Four Hour Workweek, Tim Ferris 3. Sex at Dawn: The Prehistoric Origins of Modern Sexuality, Christopher Ryan and Cacilda Jethá 4. The One-Week Job Project, Sean Aiken 5. Infinite Jest, David Foster Wallace 6. Surely You're Joking, Mr. Feynman?, Richard Feynman
7.
Portrait of the Artist as a Young Man
, James Joyce 8.
Light in August
, William Faulkner 9.
For Whom the Bell Tolls
, Ernest Hemingway 10. At least one book from my photography collection, TBD. 11.
Year of Magical Thinking
, Joan Didion 12.
A Scanner Darkly
, Philip K. Dick