As predicted, it's taken me ages to get to the third and final installment of my Greece photos [
post 1
,
post 2
], but here it is! We start this last third of the trip in Dimitsana, yet another incredibly charming mountain town. Greece was nothing if not charming. But first, as always, my favorite image from the set. You'll hear more about Mystras below.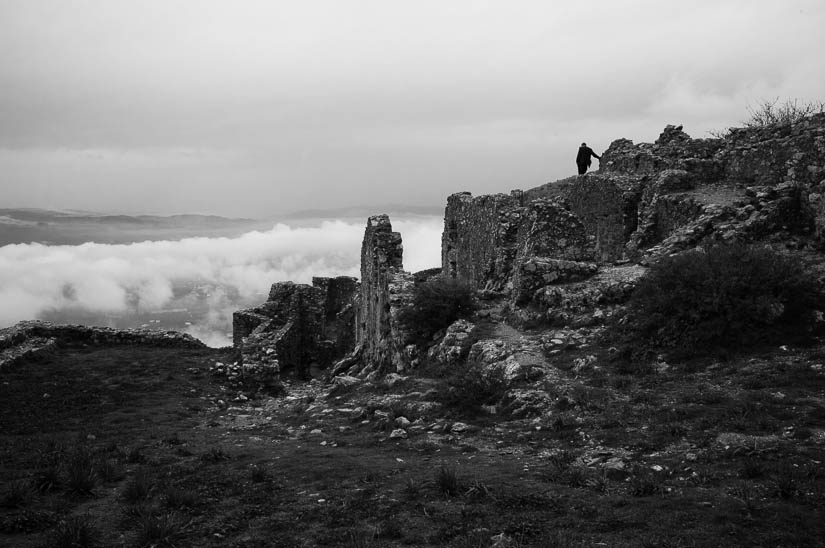 I left off in the also-charming also-mountain town of Kalavrita, on Christmas Day. When we got back down the mountain, we hopped in the car and took the ride over to Olympia, where we stayed at the very hospitable
Hotel Pelops
(highly recommend!). But it was Christmas Day, and everything was closed. Likewise December 26, which is also a holiday in Greece. Our hotelier suggested/basically told us we must drive around the nearby mountains to see the towns of Dimitsana, Stemnitsa and Andritsena.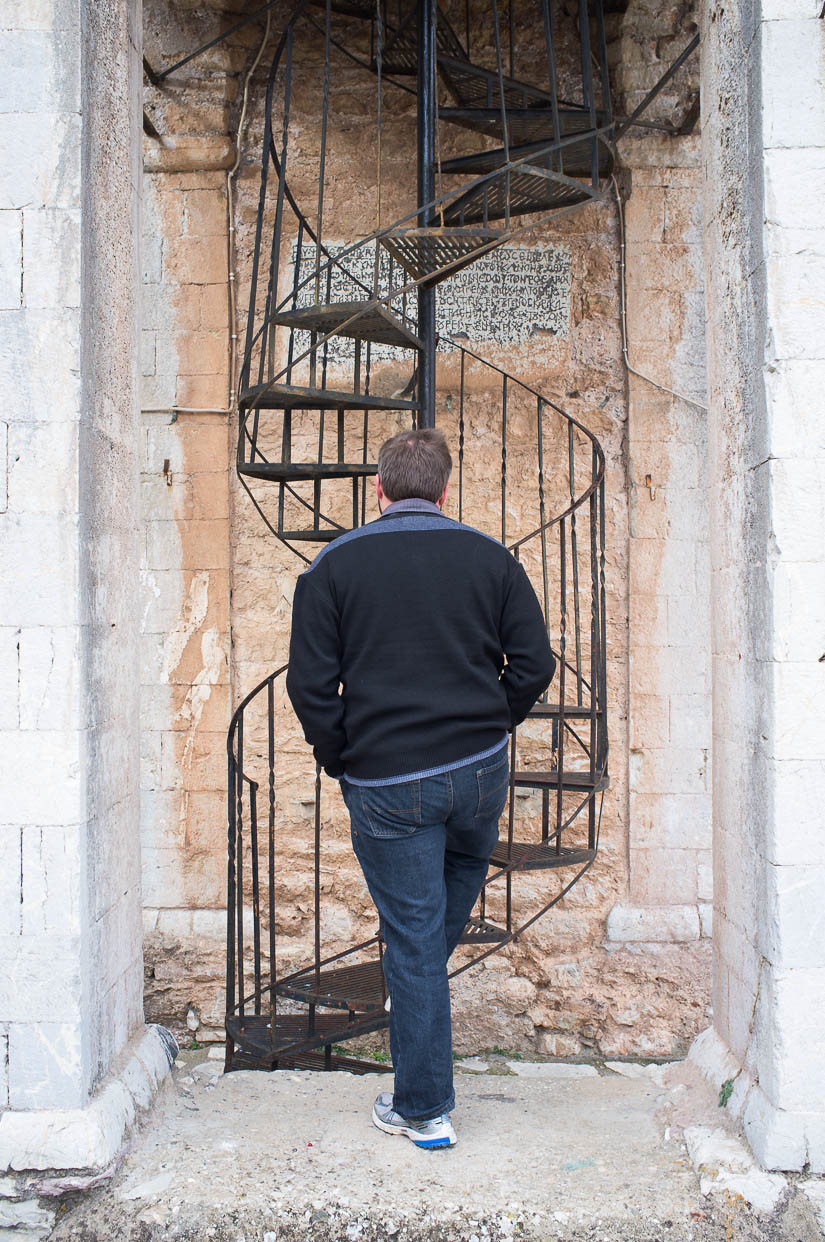 These were very lovely places, but the incredibly windy, narrow roads to get there were downright terrifying. When driving through town, there was often just enough space for our tiny Panda to get between the sheer-cliff-dropoff on one side and the ancient-stone-cottage on the other. Not to mention hoards of Greek tourists and insanely fast-driving Greek motorists attempting to access the same roads. This was pretty much our experience with Greek mountain roads generally - they are all insane. Greek driving is insane. But we lived!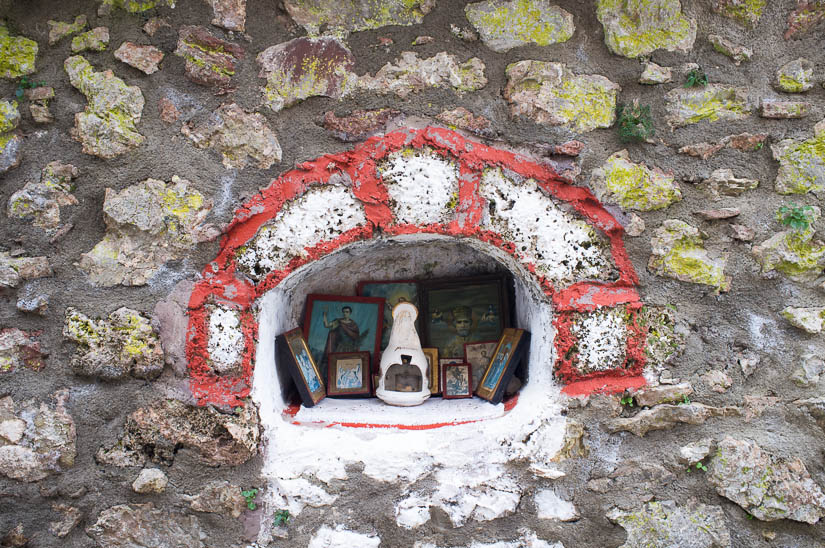 The aforementioned Greek tourist crowds. Greeks flock to the mountains for Christmas, it would seem.

The Christmas holidays complete and having spent two nights in Olympia but not actually visiting the site, we finally made it to the very atmospheric and interesting Historic Olympia. Let me again plug Rick Steeves, who does a brilliant job of making history accessible and engaging. Most of these sites are pretty piles of stones without the background provided by a good guidebook. It's a must - the signs around the sites are generally not that informative and almost universally boring. Here's George making like a discus thrower.

Some helpful Australian tourists asked for their photo in this spot, so we did a swaparoo. I don't know why George insists on doing that weird hand thing. We stand together all the time and never do that unless someone is taking our picture (hm, sounds familiar...) Anyway, this is Phidias' workshop. He made one of the seven wonders of the ancient world - the giant Zeus statue that used to stand in the temple here. It disappeared, alas.

Inside the Olympia museum - this was a really neat sculpture that Rick Steeves had a lot to say about and all of which I've forgotten.

Crappy, motion-blur, overexposed picture of one of these crazy mountain roads. I mean, there are tunnels on regular roads - but this just looks like somebody hacked a narrow passage through a mountain with a pick-axe or something. If you look on the right side of the frame, you can see another part of the road where there is no support for the rock - you just drive under this terrifying ledge. Also, there was definitely not enough space for two cars in the tunnel and it was a super-blind curve.

Most of what we saw in Greece was really old - like really, really, really old. Mystras was one of the newer sites we visited - from the Byzantine era, cerca 1200 CE. It's an enormous site and used to be a big fortified town and one of the most important places in medieval Greece.


Naturally, there were cats. These are nunnery cats, so I think that's why George was ok with them crawling all over him.


The clouds rolled over the site while we were there - really cool.

Finally, finally, we were back at the coast and back in warm weather. Here's our balcony at our super-amazing-awesome mini apartment in Kardamili. I think we got a big upgrade because it was the low season. We had a kitchen and everything, not to mention a balcony straight overlooking the Mediterranean.


Kardamili is a beautiful little seaside village, but there's almost nothing to do there except hike, so we did. The town sits on the sea but it abuts mountains, so the only thing to do is hike up up up for most of the day. When we reached the peak of the cliff, we found this really wonderful and seemingly abandoned town. I have no idea what it's name is, and Google doesn't either. There were maybe six or eight houses perched on the edge of the cliff.

We continued our ambling walk through this enormous olive grove. The point was to get to a town on the other side, but we never made it. We got seriously lost in the olive grove, and then tried to trek through what eventually became just dense vegetation, and had to work our way back to the road and the tiny village.

But there were sheep! Always lots of sheep.

At one point, we could see where we came from. Here's the entirety of Kardamili.

And it turned out the town wasn't abandoned after all! This gentleman and someone I take to be his wife were overseeing the tiny courtyard around which the houses were clustered.



I was really taken with this definitely abandoned (for real now) house. If you look closely, you can see that it's number one.

Back in town. Cats everywhere.

On the left, we have an abandoned olive oil press! George and I had gone to the Olive and Olive Oil Museum in Sparta (nothing special to mention about Sparta, it's a really nondescript place), but because we saw all the old technologies and things, we were able to identify this piece of machinery, long since put out of use. It was really cool to see it and recognize it for what it was.

The Kardamili harbor - once bustling, now just used by small-time fishermen.

Sunset on our last day by the sea.

In the morning, before we left, we took a wander around town to visit some of the places Rick Steeves mentions in his book. (He is freakin' mad in love with Kardamili - goes on and on and on. My Lonely Planet book barely mentions it.) We made another animal friend, this one a super-happy little guy that followed us through town. We took him out of the town limits and were walking along the olive groves when we spotted a bunch of sheep. As soon as we turned our attention to them, he goes running off towards the sheep. "Not our dog! Not our dog!" we muttered as we turned away quickly and scrambled back towards town. He bounded back up to us a few minutes later looking self-satisfied. We then dropped in on this brilliant and ridiculously over-priced "local products" store. Apparently the owner had tried to take the dog up to his farm earlier in the day because he "needs a farm dog" but the dog wasn't having it, though he did seem to be perfectly comfortable sleeping on the floor of the store. We tried to get the dog to go with the owner-dude, but he followed us back to our hotel instead. We had to drive off with him basically watching. Tear.



Karadamili still, just sitting by the ocean before it was time to get a move on. The water really looks like that. It's amazing.

A small market store in Aeropoli. A cute enough town, big for the mountains. We stopped there to have a really delicious lunch.

The big draw for this day was the Diros Caves. We saw two caves in Greece and they both blew any caves we've seen in America straight out of the water (all that limestone makes for some rad formations.) But these caves were really special because they are flooded and you take a boat through. Also, there was this amazing, tiny white beach next door.



Back in Aeropoli for lunch, with a cat eating a hunk of bread.

That night, we stayed in Monemvasia - a Byzantine-era fortress on a big-ass rock. This fortress was never breached during any of Greece's long upheavals, but it was besieged and eventually folks had to walk out of it. What's so great about Monemvasia is that the town is only semi-recently become a draw for tourists, so it retains scads of charm. Also, the more attractive locations have been built up for tourists but lots of the rest of the enclosed fortress is still just ruins - so you have perfectly safe houses right next to shambles. It's really impressive. Up at the top you can see the now-totally-in-ruin upper fortress. We came into town after dark, so we didn't get the full effect until morning. But we did walk out to the sea (the "beach") that night and looked at the stars. It was damn romantic, y'all. And the fortress, which doesn't have that many streetlights of its own, faces out to the Mediterranean, so the stars were very bright. And it was just the sound of the ocean waves lapping at the rocks below.

In the morning, it was very cold. The cats were huddling together for warmth. Seriously, you guys.

Monemvasia from up above in the fortress. It was mad windy up there, so we didn't really stay too long. But it was a damn impressive site.

Next we drove up the coast to our second-to-last destination: Nafplio. Nafplio was Greece's capital up to about 1900, when some important dude or whoever moved it to Athens, which at the time was a tiny provincial place of 5,000 people or so. Nafplio was a great town. We were there for New Years and more or less randomly picked a restaurant in which to be for the turnover. At midnight, they turned the lights off and everybody sang and they passed out a champagne toast (for free). It was a really pleasant way to end 2013. This is one of the three Venetian fortresses that guarded the city.

These cats are having sex.

We hit up Mycenae on the way to Athens. This is a very famous tomb that has been robbed basically forever ago because it was never covered over by rocks and sand and things - someone has been maintaining it always. I didn't take any good pictures of the rest of Mycenae, but it's a really fascinating place because it predates everything around it. The Classical-Era Greeks used to visit Mycenae and marvel at it as an archeological site of their ancestors. It was a pile of stones then and that was 2000 years ago. Not too much is known about the people of Mycenae, but they sure could build some rad tombs.

Finally, we made it to Athens. After such a long trip, we were a bit let down by the National Archeological Museum. But the Acropolis Museum was fan-freakin'-tastic. And the site itself was pretty great, too.



A 16th Century church just hanging out under an apartment building.


There's a much-better preserved temple than the Parthenon in the Agora, next to the Acropolis (the hill on which the Parthenon sits). It doesn't get as much attention because it's not as great a work of art and wasn't as richly decorated (or as large), but it's still pretty damn impressive. I was amused by the contrast of the temple and the subway, which runs right next to it.


We did plenty of stuff in Athens, but I didn't take so many pictures. I was tired, y'all! But we managed to meet up with one of George's colleagues and his Greek girlfriend, who actually took us partying until 3am (we did it! We partied like Greeks for one night!) She explained lots of things about Greece, like why the french fries are so bad (pan-frying vs. deep frying - all the fries in Greece are soggy disasters), and why everyone drinks so damn much coffee and why everybody stays up til 5 in the morning, but businesses open at 8am (Greeks are crazy and never sleep was the dumbed-down answer.) So, in sum, Greece is super mega awesome. I would go back in a heartbeat. And I'll need to in order to see the islands - the part everybody else sees at the exclusion of the mainland. Even in winter, it charmed the pants off us. A good place.