One of my favorite businesses is
Best Buns
, a lovely little bakery a block and a half from my house.  I love being able to stop off on the way home from work and pick up a beautiful baguette.  They've got lots of other tasty goodies as well - including a hearty multigrain bread.  I used it this weekend to make some very indulgent, but hopefully not too sinful, french toast.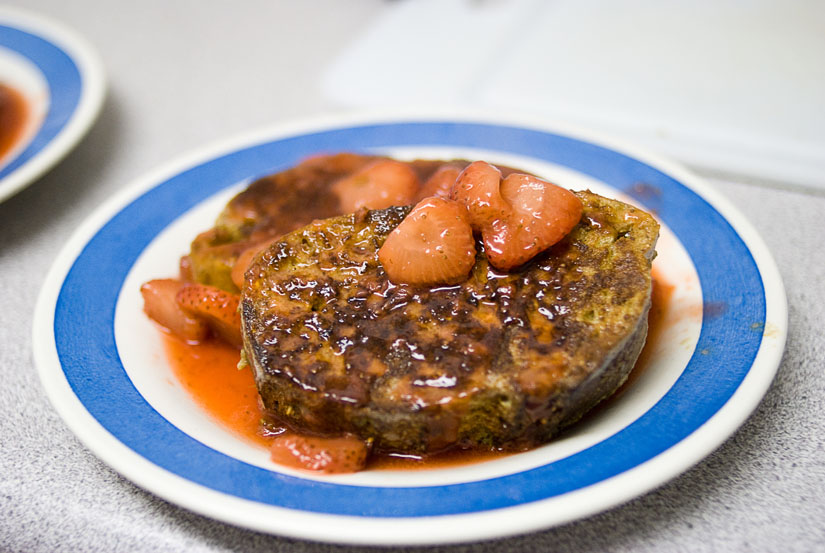 You'll have to forgive me about the recipe.  I'm not very good with measurements, particularly if I feel that they are unnecessary (which is most of the time, when I'm making dishes I can already pretty accurately produce).  Here's where you start: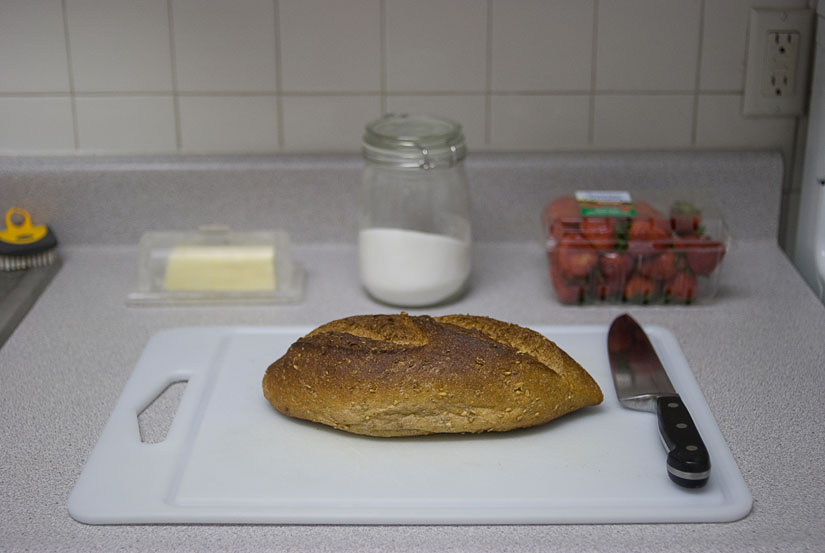 You'll need:
A beautiful loaf of bread.  You could bake your own or you could walk down to your bakery and buy a loaf.  This whole thing works better with a hearty, complex multigrain.
One egg for each person.
Cinnamon
Vanilla
Strawberries - a pint or so will do, a big box if you really love strawberries
Sugar
Cornstarch
Now then, slice your bread and make it thick.  We're not putting on any crummy corn syrup sauce here.  Give it something to soak into.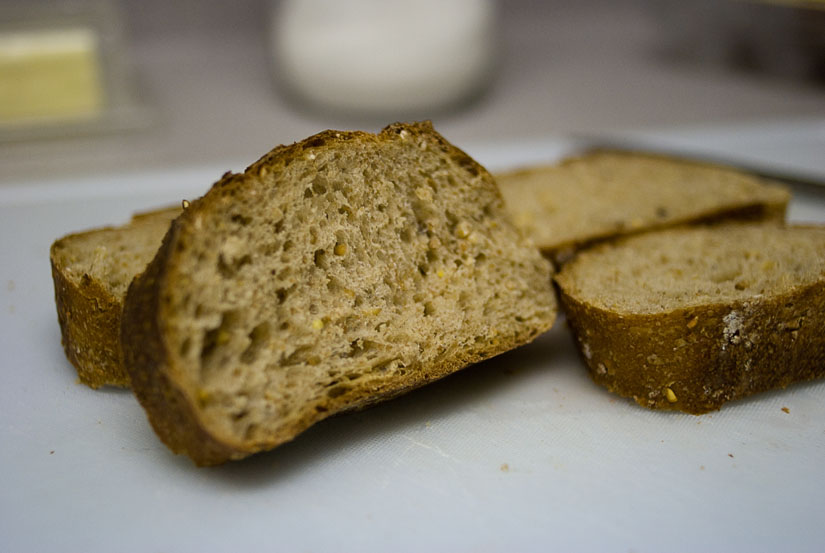 Then cut up the berries.  If you have an immersion blender, it doesn't matter what size.  If not, cut them pretty small, but leave a few larger chunks.

Then throw them into a pot (like above) and add maybe 1/4 c sugar, 1 T cornstarch and maybe another 1/4 c water.  Then put over low heat.  The berries will melt a bit and you'll get this rich red sauce at the bottom of the pan.  Wait until this sauce is kinda thick, and then immersion blend a bit of it to get it even thicker.  You can keep it at a low boil to thicken it more, but careful about adding more cornstarch - it can get gummy and leave white balls and that is really gross. While your strawberries are cooking down, beat the eggs slightly with maybe 1 tsp vanilla and a couple hearty shakes of cinnamon.  Then coat each side of a slice of bread and throw 'em in a pan with some butter.

You should cook them until they look like this, but not much further - you don't want any burnt taste, just a little browning.

When they look like this on both sides, they're done!  Put 'em on a plate (stacking them like in the photo up top is a nice presentation), and throw a great deal of strawberry sauce on top.  If you have leftover sauce, it makes an awesome pie filling.  But that is a tale for another day.