When the coordinator (more on her later) told me Amelia and Javier's ceremony was only nine minutes, that didn't seem right.  I get in-the-zone during the ceremony so it's hard for me to judge how much time has passed, but I found it hard to believe that in nine minutes, they could pack in deep flushes, tears, words of wisdom from the officiant, handwritten vows and a whole lot of laughter.  Amelia and Javier had the most joyous recessional I've seen and I'm so glad I was there to snag it.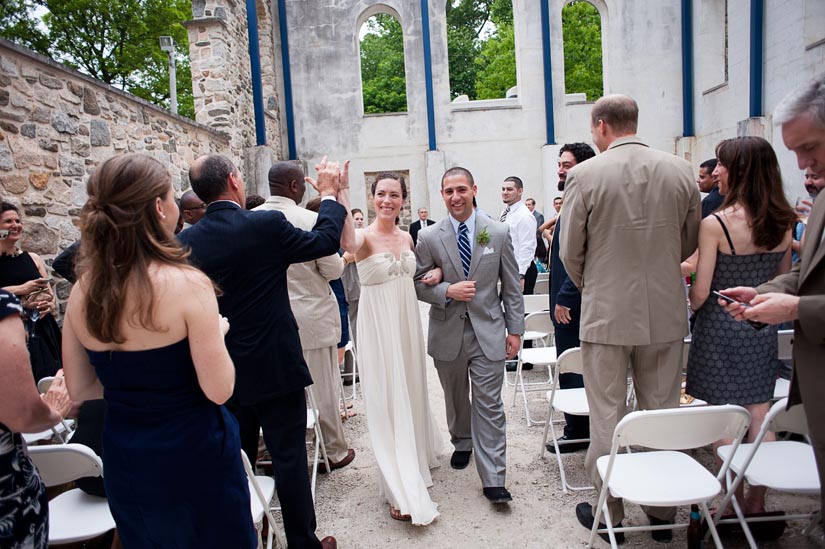 Their wedding was at the most fantastic venue ever, the
Patapsco Female Institute
 (rental info
here
), the "ruins of a girls school" Amelia told me at our first meeting.  And that is exactly what the space is - no roof, half-walls, columns that lead to nowhere.  The space is maintained as-is - half falling apart, totally awesome.  Amelia and Javier's friends and family filled the space with all manner of joy and love and par-tay.  It was a good old time. The light in the Hotel Monaco in Baltimore was out-of-this-world.  Check it.



Meanwhile, in a suite across the hall...

Bear is not one to be left behind for the festivities.  He wasn't invited to the main event, but he did get to hang with everybody before and after at the hotel.  And insisted on being the center of attention.  He's a good dog.

Possibly my favorite getting-ready picture ever.






The flowers at the wedding were not blooming things but "meaningful herbs" -
but I never did catch the meanings
. From Amelia: "Rosemary for love, loyalty & remembrance, thyme for strength, lavender for luck, mint for warmth, sage for domestic virtue."

Her dress was
perfect
 so we had to rock some of that floaty, swaying action.











Amelia and Javier hired
Rebecca Dick
of Blue Canary Events a couple months before their wedding to help them with the planning.  Amelia told me she wished she had hired her from day one.  I was so impressed with Rebecca's attention to detail (she signs her emails "party planning perfectionist"!) and general I-got-this attitude.  She was amazing to work with and
everybody
 should get on her bandwagon!


















Vendors: Getting ready venue:
Hotel Monaco
, Baltimore Ceremony and reception venue:
Patapsco Female Institute
Planner/coordinator:
Rebecca Dick
, Blue Canary Events (highly recommend!) Photography: me! Florist:
Willow Oak Garden
Paper Goods & Gift Bags:
Golden Silhouette Designs
DJ:
Ricky Bulles
Catering:
Kloby's Smokehouse
Dessert spread:
Heidelberg Bakery
Hair and makeup:
First Impressions Salon
Equipment rental:
Grand Rental Events