I met Shira and Graeme on their wedding day - Shira with a black salon robe draped over her and Graeme with a big anticipatory smile on his face before I brought in his bride. These hip cats live in London, of all the swanky, desirable places to reside, but brought it on home so they could get married in Shira's temple, where her father is the rabbi. And let me warn you now, they rocked the reception at
VisArts
so hard, I am showing just way too many photos from their klezmer dancing. Shira and Graeme: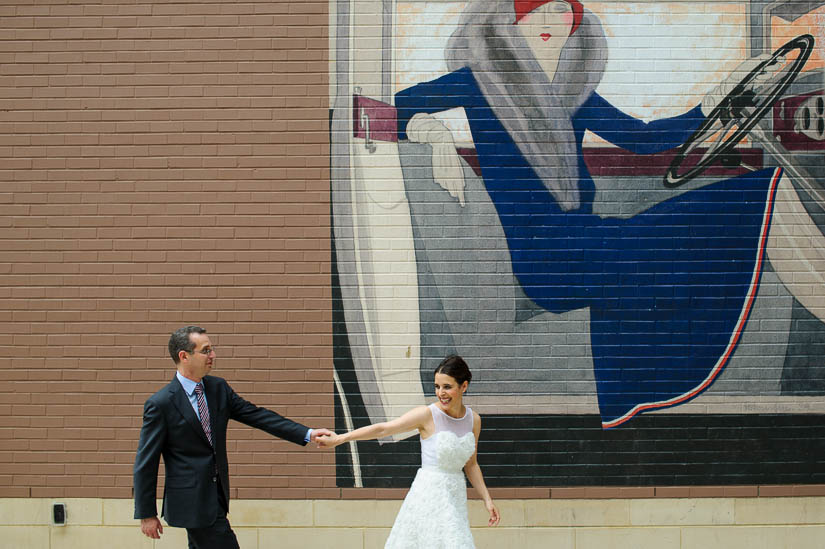 We started the day at Shira's family home in Rockville and at the
Bethesda North Marriott
. Apparently in England there is none of this "getting ready" coverage, so they thought the whole thing was rather amusing.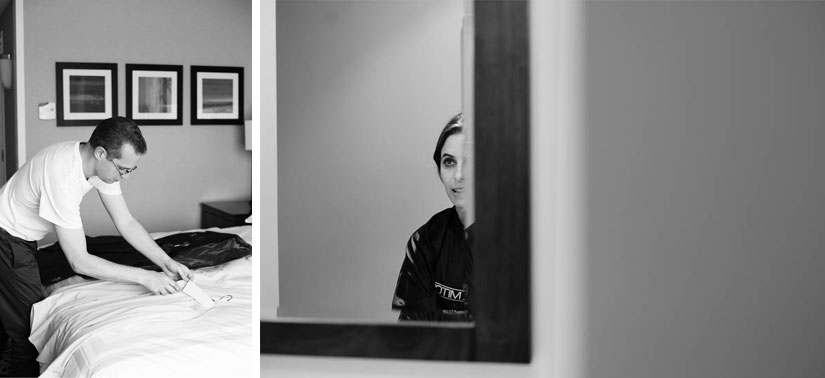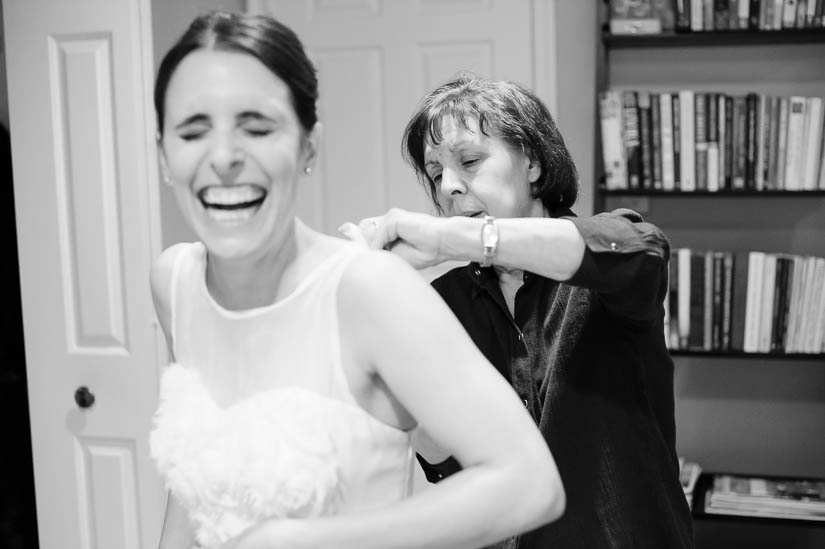 Then we scooted to
VisArts at Rockville
so the heroes of our story could have a "first look" and do some portraits at the Rockville Town Center.

They were, needless to say, delighted to see each other.

Shira and Graeme, it turns out, are much sillier than I thought they would be. We'd had a couple phone conversations, one Skype call and plenty of emails, but none of that prepared me for how ridiculously cuddly and giggly and silly these two are. Picking up on the vibe, we paused to take some photos with this giant bagel. It's a wedding bagel!

And they wanted some "street" portraits, so I obliged.


I actually got them to do this for a split-second...

...because most of the time it was straight this. Shira has the best laugh and she employed it *all day*. Not sure I've seen a bride laugh more on her wedding day - good times!




Shira's father is the rabbi at
B'nai Israel
, and he performed their marriage ceremony.















It had stopped raining by then, so we paused for a second in the garden to take some nature-y photos.



Back to VisArts, for their not-quite-but-very-close-to-farm-to-table wedding, complete with potted herbs.



People sometimes ask me what my ideal shooting conditions are - outdoors, bright lights, big weddings, small ones, etc. I now have my ideal shooting condition - half an hour of klezmer dancing, with a rowdy crowd and a ridiculously happy couple.

Okay so I've photographed a lot of weddings. I've seen the hora. This was the hora + 25 minutes of additional joyous, rambunctious, comedic dancing. It was so awesome.













It was rad.

Apparently in other parts of the world, it's traditional for the groom to give a speech at the wedding. I don't think Graeme realized this wasn't common in America until our drive from the temple to VisArts. "So do all the grooms start with 'my wife and I' during their speeches?" he asked. "What speech?" I said.









A second set of Seven Blessings.

And they declared the day a smashing success.

Congratulations Shira and Graeme! Shira & Grame's vendor team: Coordinator: Katie Wannen,
The Plannery
(an awesome, awesome lady) Ceremony venue:
B'nai Israel
Reception venue:
VisArts at Rockville
Getting ready venues: Shira - home; Graeme - 
Bethesda North Marriott
Caterer:
Glorious Kosher
Florist:
Willow Oak Flower & Herb Farm
Ceremony musician: 
Marc Irwin
, piano Reception musicians: Twilight Hair & Makeup:
Elle Alise
Shira's lovely dress: J. Crew Graeme's dashing suit: Daks