Ok, I realize I still owe my readers a Copenhagen post. But that's old news by now. Let's talk about Budapest! Budapest was ... amazing. Everyone is always comparing Prague and Budapest and that makes zero sense. They should be comparing Vienna and Budapest and Budapest wins hands-down.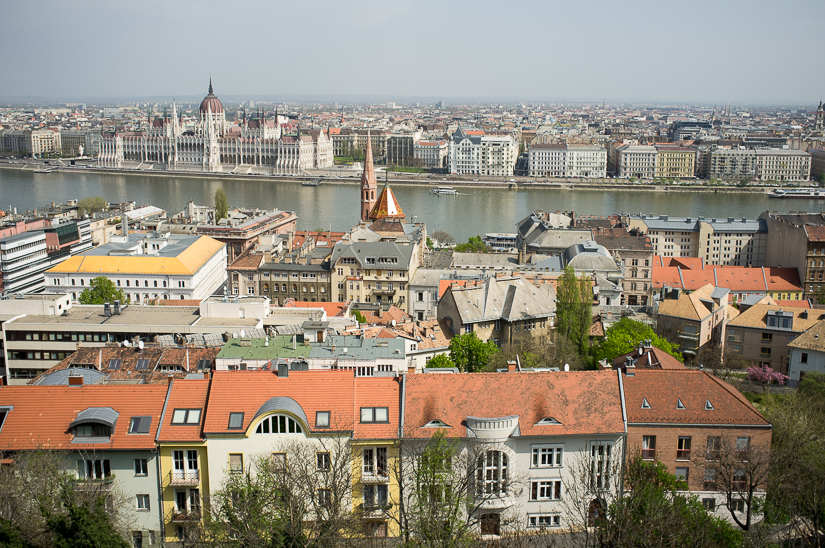 My favorite thing about the city is the architecture. Budapest had a shittton of money going into the 1900s, so they built scads of beautiful palace-like buildings and apartment complexes and mansions and opera houses and things all over the city right around the end of the 1800s. And they were riding high for 60 some-odd years until the first war, when Hungary lost 2/3 of its territory. Then WWII came along and that was something of a death knell for many years. But Buda is back in a big way and has been rebuilding, cleaning up and ready for action since the fall of the Soviet Union. Now it's a damn tourist playground but retains so much character (in a way that Prague, frankly, does not).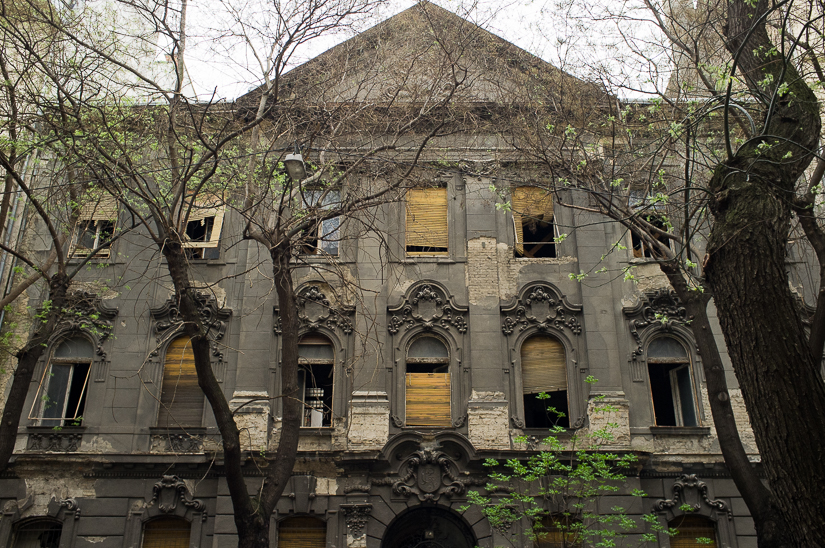 Seriously, Budapest is so beautiful. In the way that you talk about the best perfumes, and the ones that are really fancy and intriguing have lovely floral notes but also a hint of decay? Budapest is beautiful in that way. Many of the buildings show signs of serious neglect (either from deliberate destruction during the wars or from decades of inadequate upkeep during communism). You see these palace-like apartments boarded up, or with crumbling facades. I love that. I love that way more than to see a city polished like a gemstone. I like a bit of rot in my roses and Budapest has this going on in spades.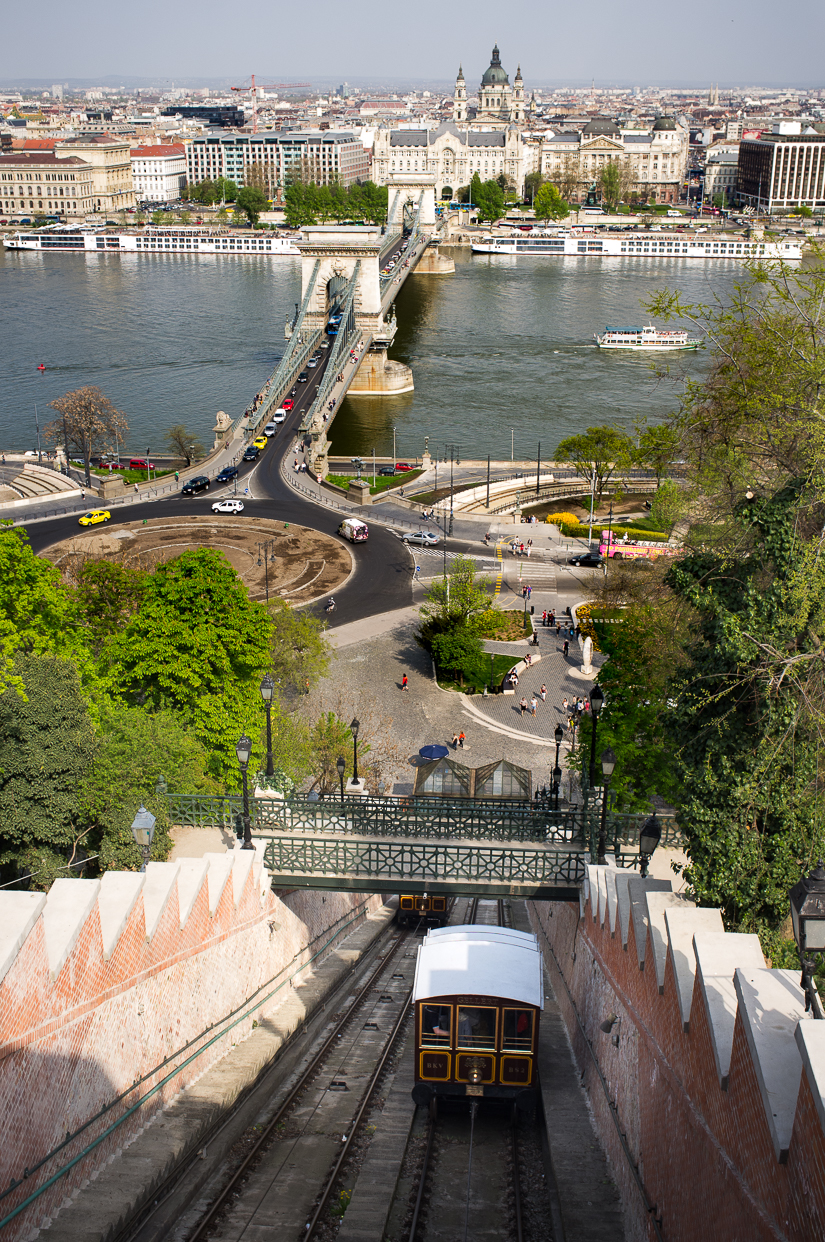 I flew in Wednesday night after my last A2 Swedish course. Then I spent a few hours just wandering around and oohing and ahhing over the buildings (this did not stop).

This is the famous Chain Bridge (so-called because the metal things that hold it up look like a chain). It was bombed as the Nazis withdrew during the war.

Budapest is a city of intense contrasts. Rich and poor, beautiful and dirty, history and modernism. So you'll see I've worked on that a little with my photos.


This is a really good example of what a kind of "boring" Budapest corner looks like. This building isn't anything special - just an old department store or shopping center. Its facade is in disrepair. It's not a theater or a mega-bank or anything. This is just "some old building" in Budapest.





My first morning, I took a long walking tour, which seemed like a good investment. It was alright, and we did see a lot of the city. This is a "fake palace" built to encompass 1000 years of architecture in Hungary (and lands that used to be under Hungarian control). It was a really cool place.

And here's the cathedral. The Soviets saw fit to build a hideous apartment building in the main square.



Budapest is actually a mash-up of three cities of old: Buda, Obuda and Pest. The Buda side of the river has some really beautiful old town areas, a massive palace and a decked-out old church. Plus some baller views.





Back in Pest I was enjoying the grittier side of things, of course.

Budapest had the last ghetto of the war. It was only around for six weeks, but the Nazis still managed to kill 10,000 people who were forced to live there (mostly through starvation and freezing). They also got the Hungarians to round up 430,000 Jews from the countryside, almost all of whom were murdered in camps. That happened in eight weeks. This is a "Tree of Life" at the largest synagogue in Europe. By the way, the largest synagogue in the world is in New York (I didn't know that).

I take photos of random things. I took so many photos of buildings but I don't want to bore everyone. Plus, it just doesn't come across so much. You'll need to see for yourself.



Let me pause here a minute to tell you about Raoul Wallenberg, my new favorite Swede. He was sent down to Budapest at the height of the war and managed to save 35,000 Jews - hiding them in safehouses or obtaining travel documents so they could come to Sweden. I just wikipedia'd him and he's not quite the fun story they told me on the tour, but he is a great historical figure anyway. The Soviets killed him shortly after liberating Hungary, for reasons that I don't understand.


A memorial for another "Righteous Among the Nations" figure.



I really just spent most of my time wandering around. Rick Steeves has a bunch of walking tours for Budapest and, as always, he is an entertaining dude. I did go in the House of Terror, which was horrifying and instructive and weirdly glitzy. (It's about the "double occupation" of the Nazis and then the Soviets).

A bunch of idiotic people come to Budapest just to get drunk. That strikes me as both obnoxious and stupid. I stayed in a hostel and there was a constant churn of 20-somethings in the adjoining room. They would come for one or two nights, stay out til 2 or 4 am, then sleep all day. There's no way they got a taste for Budapest, but they were paying for hotel rooms and train tickets or whatever else. Why not just... party at home?




There is a statue of Ronald Reagan in the middle of town for some reason.


What else did I do?
I saw an opera at the very opulent Opera House. It was Stravinsky's The Rake's Progress and it was super-weird. One of the (rather long) scenes involved maybe 50 actors dry-humping, taking off clothes, literally thrusting for 20 minutes. And they were singing in English. Also, opera is mad boring. Can we please just admit it and move on? Not even a 20-minute-long orgy could save opera.
I went to a 500-year-old Turkish baths (where I took zero photos because that would be creepy and weird). It was not so great by myself - everyone else had a friend to talk to. Also, the water wasn't very warm and that's weird, right? But it was cool that it was so old.
I met a Bulgarian friend on the last day, who accompanied me to the really sweet "ruin bar" Szimpla, which was hosting a farmer's market. (See photo below for a snapshot). The bar takes up an entire gutted-out two-story apartment complex. It is in the area of the city that was used as a ghetto, so that's not strange or disrespectful at all.
The food was just ok. Everything I had was agreeable, but no standouts. I attribute this in part to the fact that Yelp isn't in Hungary. I really rely on internet reviews to find tasty places to eat.
Everything was super, super cheap. Go to Budapest - you can afford it.
I had a guy on the street tell me his wife took their 11-year-old son to America and is now working as a prostitute. It was strange to have random people address me on the street or in a restaurant, since in Sweden everybody keeps exactly to their damn selves (and I do rather enjoy that about this country).
On Thursday, it was 75* (F, 23-ish C). It was so so so so so nice and I miss nice weather and not having to wear a jacket. I was so grateful for that one sunny, warm day.
That about wraps it up! I have tons of forints left so we'll have to be back soon. Plus, George couldn't come and the city's two main things - baths and partying - were basically useless to me. Meet us there...?