Sometimes you know exactly what to wear for something and sometimes you're at a total loss. There's a good chance you've never been professionally photographed before, so maybe this is one of the latter. Let me see if I can help. This post is written for an engaged couple taking pictures together, but it applies equally for couples of any type or even folks getting headshots and the like. Here's some
additional advice
from someone who isn't me.
The Main Thing
The main thing is to wear something that you feel comfortable in and that makes you feel like you. I recommend dressing up a little bit more than for your average day - something you might wear to a casual party. If it's too tight, too bright, scratchy, see-though, too short, you are going to fidget through the whole session and never really get into it.  Wear something that makes you feel like you. If you're buying new clothes for the photo shoot, make sure you wear them for a while before you set off to meet me - test-drive them. Also, no matchy-matchy. I don't want to see you wearing the same thing. Coordinated colors (ones that don't clash) will look so much better than white-on-white or red-on-red. You want to look good standing next to each other, but not combine visually.
Formal vs. Informal
How dressy you go really depends on your own personalities and what the photos will be used for. If you're doing an official newspaper announcement or Mom has specifically requested formal wear, go ahead and dress up. We'll pick a setting that matches. Informal wear can be more comfortable, but you want to go about one level up from your normal getup. You're more than welcome to bring a clothing swap to your engagement session and we'll make sure to get lots of variety with both options.
Specific Clothing Choices: Gentlemen
Jackets look fantastic on guys, but unless you're doing very dressy, lose the tie - it makes you look stiff.
No tennis shoes. I'd rather see a guy in flip flops than white sneakers - they stand out so much on a portrait. Darker athletic shoes are fine.
Specific Clothing Choices: Ladies
Give yourself a waist at the smallest part of your mid-section.
Saturated colors are better than pastels or neutrals.
Big prints are better than small ones.
Don't go baggy.  I've got some curves too, folks, and what you want to do is wear a thicker material that is still form-fitted.  Baggy clothes will just make you bigger than you are.
V-necks and collared shirts are very flattering on women – show some collarbone and neck.  Avoid turtlenecks.  Scarves work better.
You've heard these before – these things are flattering: darker colors, vertical stripes.
Ladies, bring the heels, they look fab.  But make sure you bring some shoes you can walk in, too, especially if we're going to be traveling a bit.
Examples
Here are some examples of well-dressed clients of mine from the last year: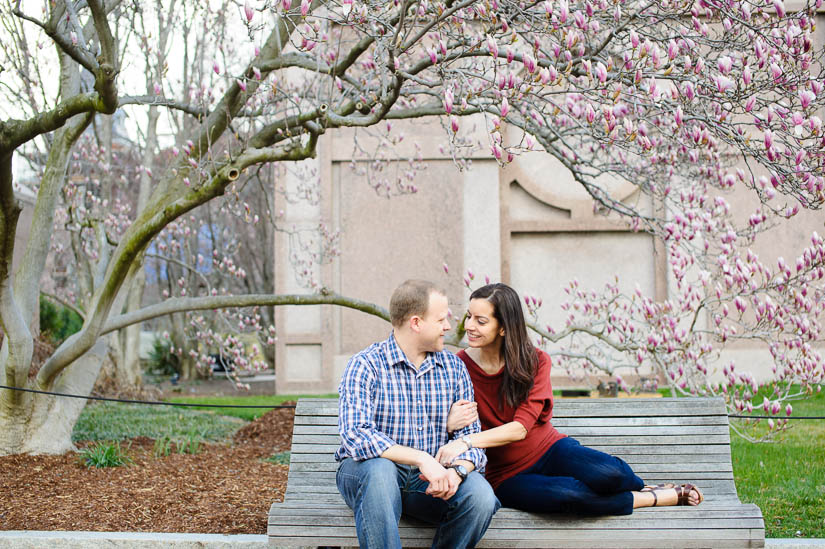 I particularly like his casual-but-put-together combo of tucked-in shirt and rolled sleeves. Her sweater has some nice looseness in areas, but is still form-fitted around her waist to give her a smaller silhouette.
Jackets on ladies also work very well, particularly for ladies with curves. See how it skims over her shape, giving her a form? That is far preferable to a straight line for women. Wear something that is a *thick* material, so it won't show anything lumpy, but will work with curves. Also, jackets create a smaller shape inside, visually, and that's the size you will look in many angles (not this one).
They're not wearing the same color, but the blue of her shirt matches the blue stripe in his - creating a great combination.

You can see from this backed-out image how creating a waist at the smallest part of a woman's body gives her that desirable hourglass shape. Without that waist (if she wore a baggy dress, for instance), she would look heavier.

It's always a good idea to wear something around the hips vs. tight. Not just so I can help create motion in the images, but also because you want your clothes to skim over your body, not cling.

An example of casual  and dressy options for the same session.

A formal setting to match formal clothes. Her dress worked particularly well as it was a thick material, but still form-fitted - so it showed off her curves without showing too much of anything else.

Again, an example of a dress with a fitted waist that lets everything else fall away. This style of dress is flattering on women of all sizes. I have some more examples from previous years on a
Pinterest board
. If you have any more ideas for areas I might cover or questions about specific scenarios or clothing choices, please don't hesitate to ask!