I love when couples do "just because" sessions.  So many of us (even photographers!) have professional portraits taken maybe twice or three times in our lives - our engagement photos, our wedding photos and perhaps a couple other random occasions for work or other big life events.  A "just because" session lets you capture a little bit of who and how you are right now, without needing an occasion. This past weekend, Julia and Alex and I got together for that reason - none at all really.  I'm fortunate enough to be friends with these two and I know them as kind of a standoffish couple - not a lot of PDAs here, folks.  Little did I know they were hiding boundless cuddly cuteness just beyond our sights! We headed out to the
Claude Moore Colonial Farm
off of the GW Parkway.  It was a great location for couple photos and we had some amazing fall color (even though it's the end of the season and fading fast) and beautiful patches of afternoon light.  I wouldn't recommend it as a photo venue, however.  We were sternly asked not to do any "commercial" photography.  We waved them off with "but we're all just friends!"  Good thing they let us go on.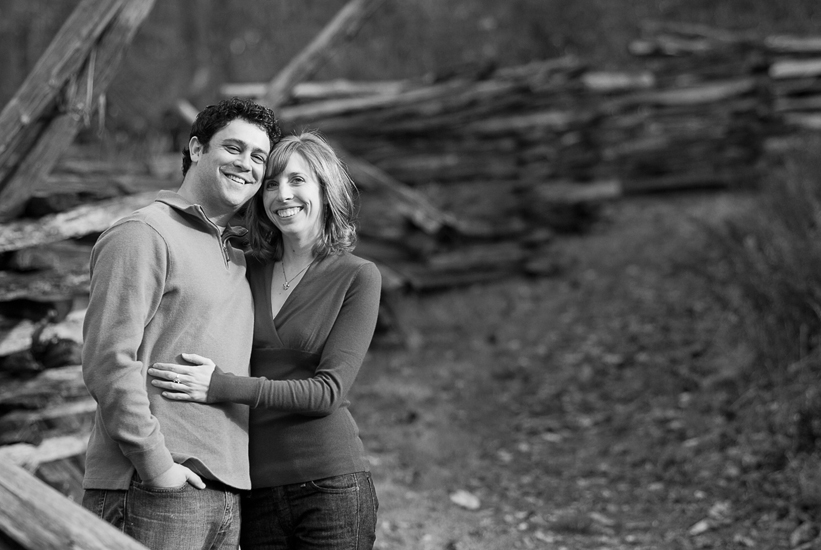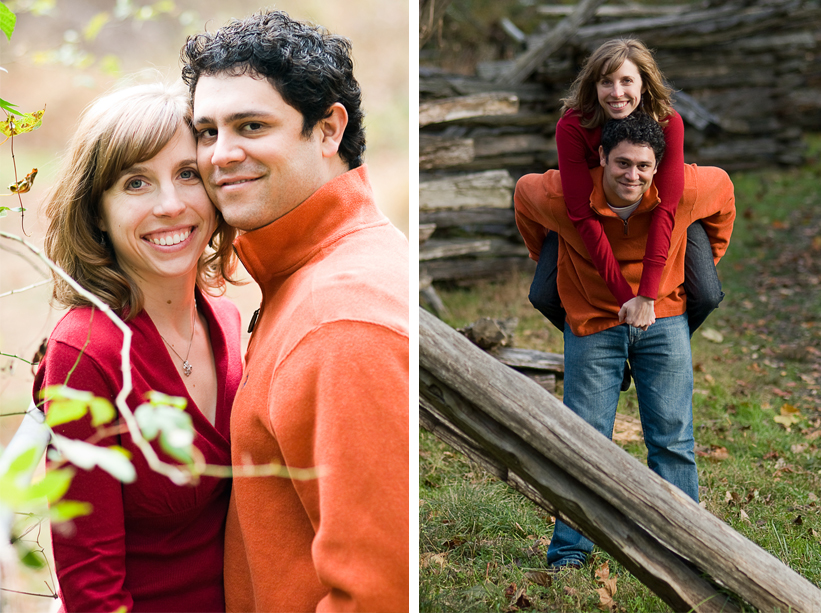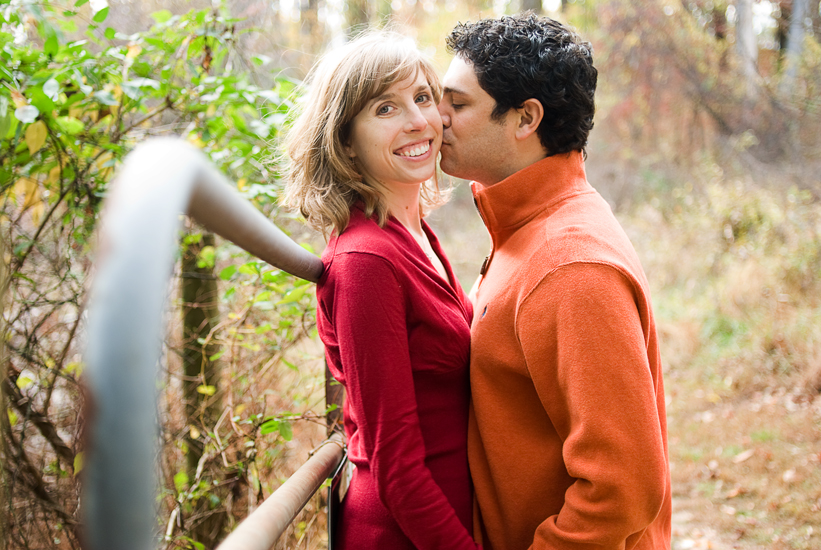 Now I just have to say that Julia is one of the nicest people I know.  Lots of folks are nice enough, but Julia is unendingly sweet, thoughtful and generous.  I was so excited when she said she wanted me to photographer her with her honey.



Alex, it turns out, is totally goofy.

Which is awesome, because it makes Julia laugh.

Look at this gorgeous lady.



I couldn't get enough of this window on the side of the farmhouse.  It drove me crazy trying to make the image straight - all of the planks and side of the house and window are all on different planes!  Oh well, love is kinda crooked sometimes.



They both brought a clothing change.  Julia stuck with her red sweater but we made Alex change into the professor's jacket towards the end of the shoot - "two against one!" we said.  Before that, though, he kept having to hang his jacket from various branches and things so as not to get it dirty and wrinkled.  I thought it looked pretty neat hanging in the woods.


This image comes to you courtesy of the
Brenizer Method
- you take a bunch of photos at a longer focal length (85mm here at f/2.4) and stitch them together using Photoshop's panorama tool.  It can create some really cool effects.

As we were headed back to our cars, we needed to cross a path some geese were occupying.  One started to charge me!  This lovely period-attired young woman had to come to our rescue.  Seriously, geese are scary.

I was glad she did, though, because I had Julia and Alex sit down on the path just beyond the geese and we got some of my favorite images from the day.


Thanks again Julia and Alex for having me capture your slice-of-life!  Enjoy the new domestic arrangement. 🙂 If you're interested in having me take "just because" photos of you and your sweetie (or you and anybody else!), please drop me a
line
and tell me a little about yourself.