This is my garden.  The perspective is totally skewed because I only had the 35mm on me (more like a 50 on my cropped sensor) and so had to resort to some
Brenizer Method
stitching to show your our little plot.  When we arrived on the scene yesterday, the entire left side of this area was just covered in weeds.  George and I pulled them and then we set to work planting my
little babies
that had been sitting on our windowsill.

So far we've got: several kinds of peppers, three or four varieties of tomato, leeks (maybe - they look really bad), brussel sprouts, spinach, tatsoi, arugula, radishes, rutabaga, beets, carrots, strawberries, thyme, mint, rosemary and that big bushy thing in the front of the garden is my lavender plant.  I'm very proud of my little lavender. We spent maybe two hours yesterday workin' the land and were glad there was a thunderstorm headed our way to water our little garden.  They haven't turned on the water yet this year (much like the A/C in our apartment...).  But when the storm came, it brought quarter-size hail!  Our plants took a mighty beating last night and so who knows which of them will make it.  On the plus side, they got plenty of water. It's hard to say that I "love" our garden.  It's a lot more work than I thought it would be, and a lot of it is really awful pulling weeds.  The weeds are neverending, really.  You completely clear the garden one weekend and when you come back the next, there's a fresh crop.  But it is really cool to see things you started from seed grow into full-fledged plants and produce fruit.  And that first Cherokee Purple tomato... heaven.  Now
that
will make for a good "Stuff I Love" post.  I may be eating beef and bean soup for dinner tonight, but I'm dreaming of this: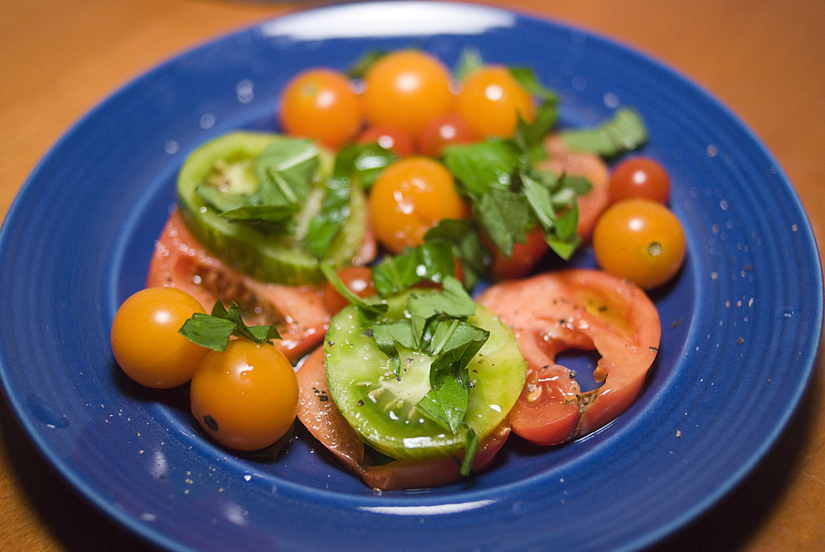 Soon enough, my friends, soon enough.