Joanna and Michael.  These two started cute and happy and sweet and that is exactly how they ended the night, too.  I'm not much for talking about how in loooooove my peeps are, but these two are absolutely oozing it.  Their wedding was adorable and joyous and all manner of good things.
Joanna got ready at her family home in Seaford, Virginia, near Williamsburg.  Their ceremony took place right in the backyard.  And yes, that dock is part of the back yard.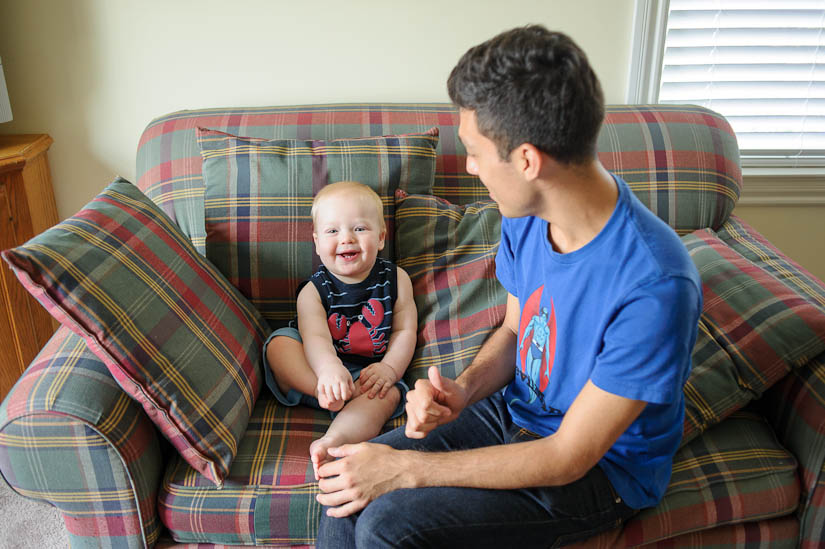 They have an elevator in their house, which is totally rad.

Big thanks to
Tim Riddick
for coming down to shoot this one with me.  Love this breaking-all-the-rules frame he got from the guys' getting ready.

First look in the back yard.  I told you they were unbelievably cute.


Tim's.





Bam.




Joanna and Michael had gifts for the flower girls - "something old" for them to carry at their own weddings!

Tim's, as Joanna and her dad walk down her front steps.

Okay now this is not my favorite processional picture, but I'm including it because I GOT THE BUTTERFLY!  That black smudge there isn't dust or a bird in the distance.  It's a butterfly that was all over the ceremony.  It touched about every guest and hovered around Joanna and Michael the whole time.  I tried to get it during the ceremony but didn't think I had.  When I was editing, I scared the crap out of George when I shrieked and yelled "I got it!"



Joanna's family's beautiful back yard.





When I found out I was going to ride in the car with Joanna and Michael, I got really excited, because I took an image just like this at their
engagement session
.


Joanna's dad was involved in founding the
Seaford Yacht Club
.  It was a beautiful setting for a wedding.




Tim's.  Love it.
















This was awesome.





Congratulations, you guys!  It was so fun documenting your day. Joanna and Michael's vendor team: Ceremony location: Joanna's family home Reception location:  
Seaford Yacht Club
DJ:
Astro DJ
Caterer:
Linda's Touch of Class Catering
Cake:
Bella Cakes