Liz and Zach were married at the beautiful, atmospheric and convenient
Woodlands at Algonkian
in Sterling, Va. amid bright colors, a huge group of supportive friends and a sea of glowsticks. The entire day oscillated between drizzle and steady rain, but Zach pushed on, determined to be married outdoors under the ridiculously well-decorated pergola. Ten minutes to go, he called it for outdoors, despite storm clouds all around. And, friends, it did not rain. Even Mother Nature loves these two.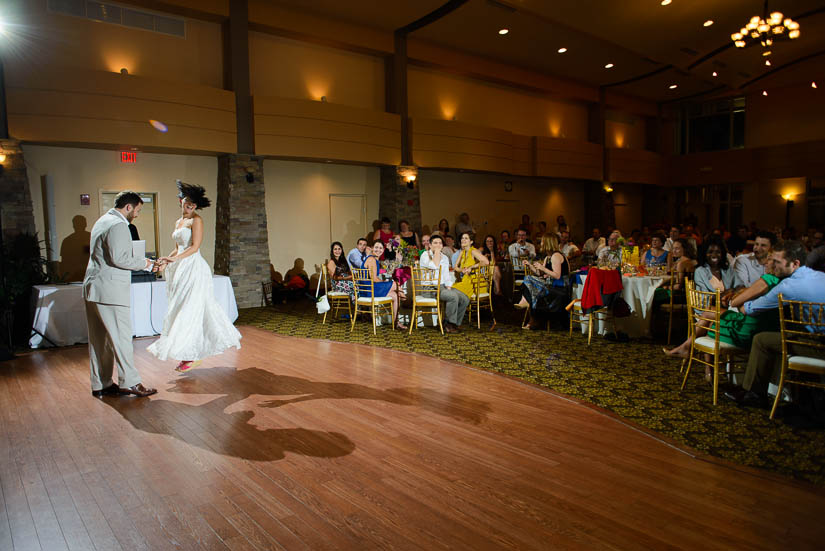 You get the impression that nobody ever dislikes Liz and Zach. They had tons of people at their wedding and everyone there seemed to be gushing with joy for them. Furthermore, my own dear husband who, bless his heart, can't keep any of my clients straight and I have to go through seven details of their wedding before I can tell him about this or that thing, always remembers Liz and Zach. The Woodlands has a number of cabins down the road from the reception hall, so many of their guests got to stay close by and get ready in the cabins.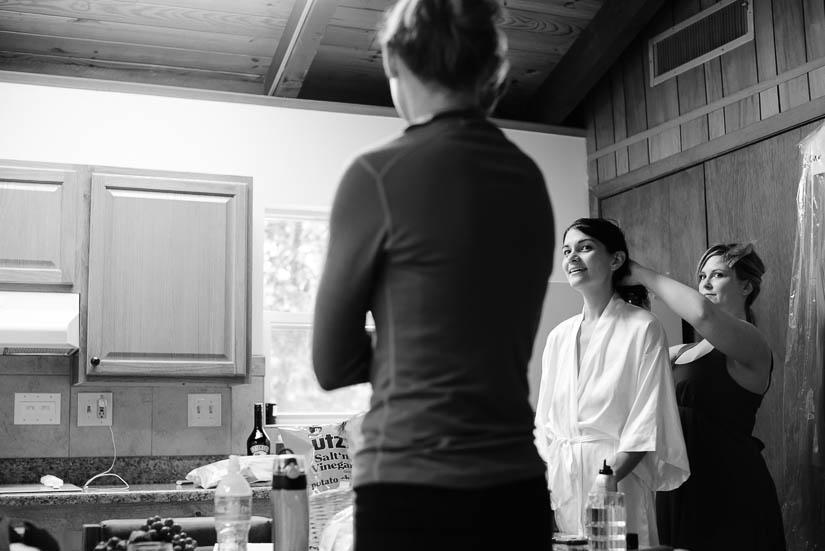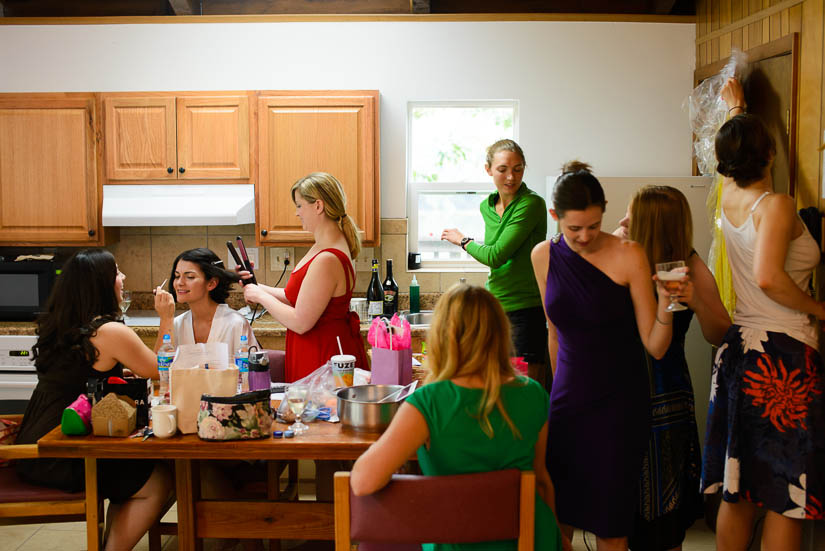 Instead of a veil, Liz went for a beautiful floral crown, with bright colors matching the rest of the wedding.

(L&Z - below left is one of my favorite wedding images, ever. You guys are so sweet.)

Liz and Zach are going to travel the world here shortly, with an entire year spent going wherever. I don't envy many other people's lives (mine is pretty great) but that evokes some serious "wow, that is cool." Also, their friends and family decorated this pergola.


You already love them, right? Obviously.



Liz and Zach's bridesmaids rocked this amazing rainbow, and the colors showed up all over their wedding - from umbrellas to menus. It was some of the best and most cheerful decoration I've seen at a wedding.

Here we have the groomsmen drying off the chairs before the wedding. Because it was literally still raining when they called it for outside.














Meigh
 and I kept going "I can't believe they made it not rain." But they really did make it not rain.

I couldn't get over the rainbow colors - it just worked so well for them and looked so good everywhere they employed it. One of my most relevant ring shots ever.


For the record, Liz asked me to take this photograph. Also, they served legit grown-up burgers for their guests.

It was Liz's mom's birthday, so the whole wedding sang to her.







The Woodlands has these big windows behind the dance floor. That makes it difficult not to get yourself in the shot, but also means you can capture the crowd from multiple directions. Rock.













Zach's dad is the blurry stuff in the foreground.



This.

Nothing like the girl on crutches getting down on the dancefloor.

Special thanks to Zach's brothers and groomsmen for helping with the execution of this glowstick light-painting portrait.







Liz and Zach's rockin' vendor team: Coordinator:
Lula Mae Events
Getting ready, ceremony and reception venue:
The Woodlands at Algonkian
Caterer:
Great Blue Heron
DJ:
Marc Augenbraum
Florist:
Great Falls Florist
(for Liz's floral crown). ALL other flowers (including the bouquet!) were done by Liz's friend, Jen Lopatin Liz's dress: David's Bridal with alterations from
Lien's Dressmaking & Alterations
(she did the gorgeous shoulder-piece) Zach's suit: Jos. A. Bank Transportation:
Sunny's Limo