Tanya and Tushar got all kinds of married out at
Riverside on the Potomac
. One ceremony couldn't contain their massive amount of awesome, so they had two. This thing was boisterous, joyous and mad, mad fun. In addition, we had all the weathers and a crazy beautiful country setting with actual barn for partying. In short, it was really great. Tanya and Tushar: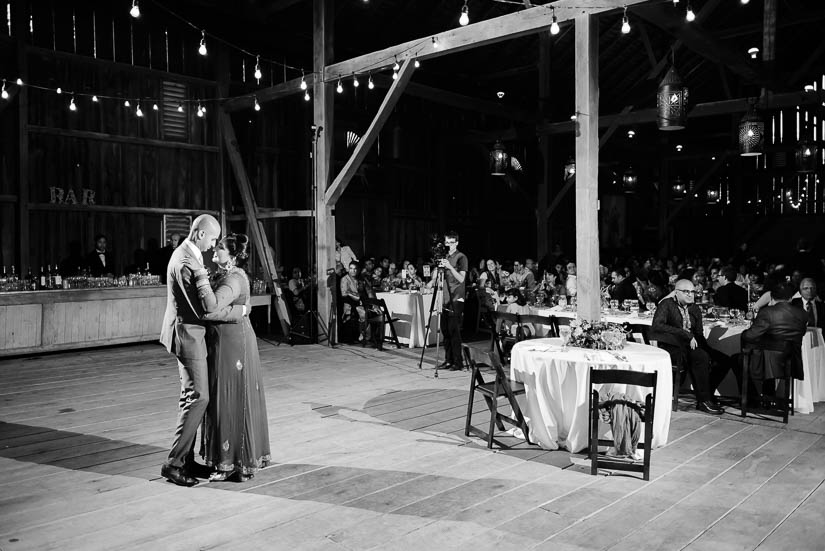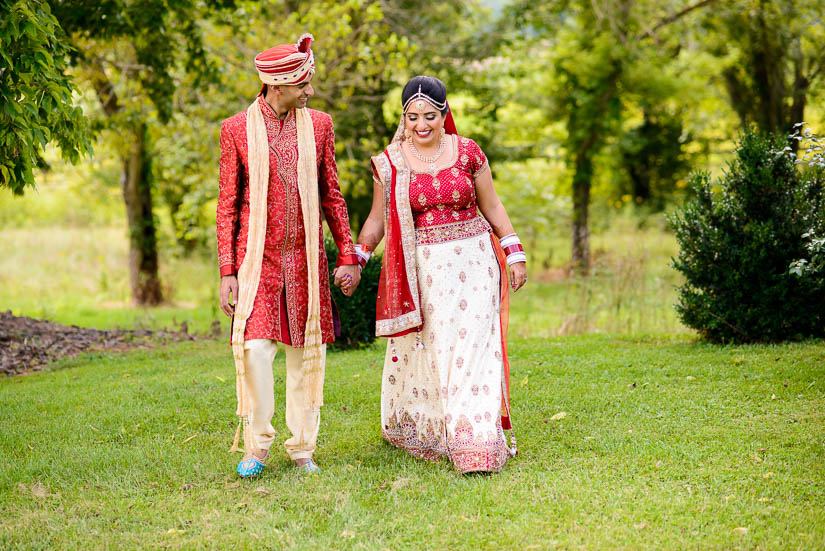 (Preface: I am posting way, way, way too many photos. But there was so much going on! And everything was so colorful and pretty! And these two and their friends and families had so much fun! Forgive me. There was a lot to photograph.) They started long before me, but I joined the fun the night before for their amazing Sangeet. So many of their friends and family participated in an outpouring of talent and love. They filled the
Dulles Airport Marriott
with purple and laughter.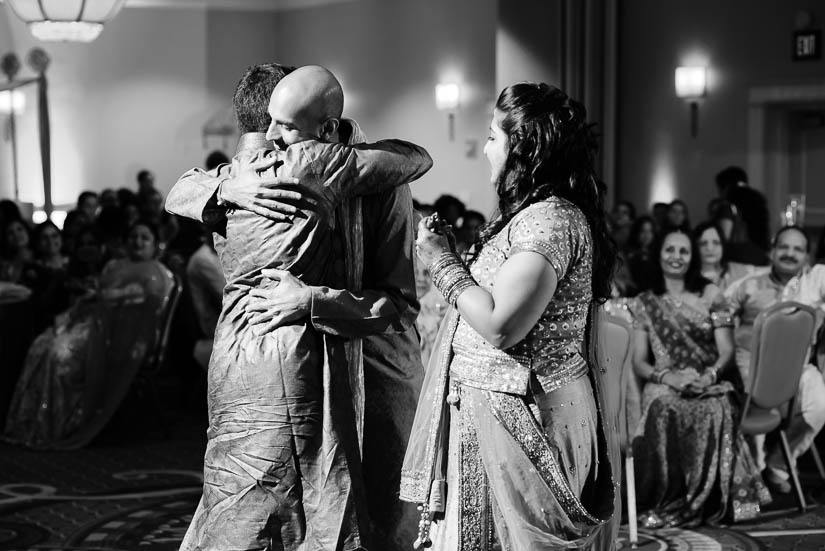 Tanya's college roommates put together an amazing dance number from Romy and Michele's High School Reunion. It was breathtaking.




Tushar's entire family choreographed a dance for them.







These people had packed-to-the-gills dance floors at least two nights in a row.

Preliminaries completed, the wedding party assembled the next day to get ready for the big event.



Shunning traditional "first looks", Tanya and Tushar backed up into each other for an egalitarian moment.



We did pretty stuff, cars, trees, etc. and then I took them over to the actual barn area, where they promptly climbed into the hay bales.



Tushar had a massive, awesome processional from behind the reception barn down to the ceremony site.



And he had a horse!


It was really, really hot but everybody kept dancing for Tushar. Including Tushar.









I don't know if anyone has ever had a better time at their wedding ceremony.






You can see the sky getting dark behind them as they circle the fire...

As the storm blew in, it literally knocked their mandap over. While they were taking their seven steps.

Um, so I made this gif of it.

They didn't seem to mind that much.








The commotion died down as they wrapped up the Indian ceremony and transitioned to a brief Western one, under the tent, as it had begun to dump rain.






But it cleared just in time for recessional. The weather was quirky and delightful like that all day - rainy and dramatic sporadically, but not during any critically important parts.

It even cleared for a second set of portraits by the pond in outfits #2.




Receptions at 
Riverside on the Potomac
 are held in this massively pretty barn. Christine with
Engaging Affairs
did a beautiful job planning and putting everything together.





A quick get-your-dance-on before dinner.













Rollicking.








And a sparkler sendoff, with only the tiniest of raindrops, to end the night.

Congratulations you guys! Tanya and Tushar's vendor team: Planning and coordination: Christine with
Engaging Affairs
Sangeet and Getting-ready venue: 
Dulles Airport Marriott
Ceremony and reception venue: 
Riverside on the Potomac
Catering:
IndAroma
(who did a lovely job with an all-vegetarian menu) Florist:
Holly Chapple Flowers
Videography:
Peter Staubs
DJ: Daryl with
DJ D-Mac and Associates
Officiant: Pandit Ramesh babu Mandap decor: Manju Mehta with
Shagun Weddings
Hair & Makeup:
Mala Amin
Transportation:
Chariots for Hire
Staffing:
Capital Restaurant Resources
Horse: Marriage Carriage & More Dohl player:
Dave Gupta
Tanya's clothing: Edison, NJ stores, including: Maharani, NZK Tushar's clothing: Indian sherwani - Sheetal in Edison, NJ / Suit - Enzo Custom Clothiers