In December, George and I packed our bags and hopped a plane to ... Africa! It was a whole new continent for both of us, the first Muslim country, and the first time George had traveled outside of the U.S. / Europe. More than any other trip we've taken, this one was uncomfortable and challenging. There were large cultural barriers, and we experienced for the first time what it's like to be a minority - incredibly visible, targeted, noticed.  It took some getting used to, but Morocco was an amazing country to experience.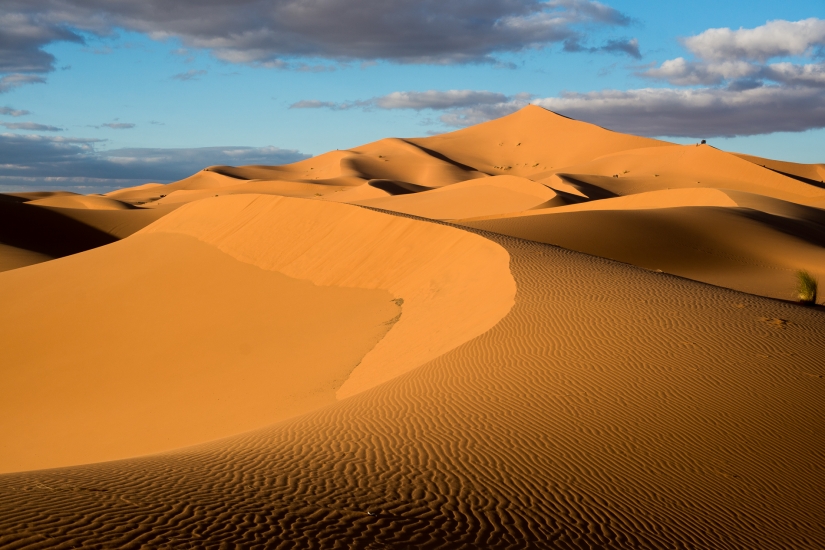 My overwhelming visual impression of Morocco is one of color. I typically take a lot of "street" style pictures and convert a lot of them into black and white. You'll find little of that in these posts. This is both because the locals are not cool with having their photo taken and because everything is so damn colorful. Each city seemed to have a signature color - red in Marrakech, blue in Chefchaouen, yellow in Fez and burnt clay in the desert. The towns in the countryside rise up from their terrain organically and it's easy to miss them in the landscape. Morocco is a singularly beautiful place.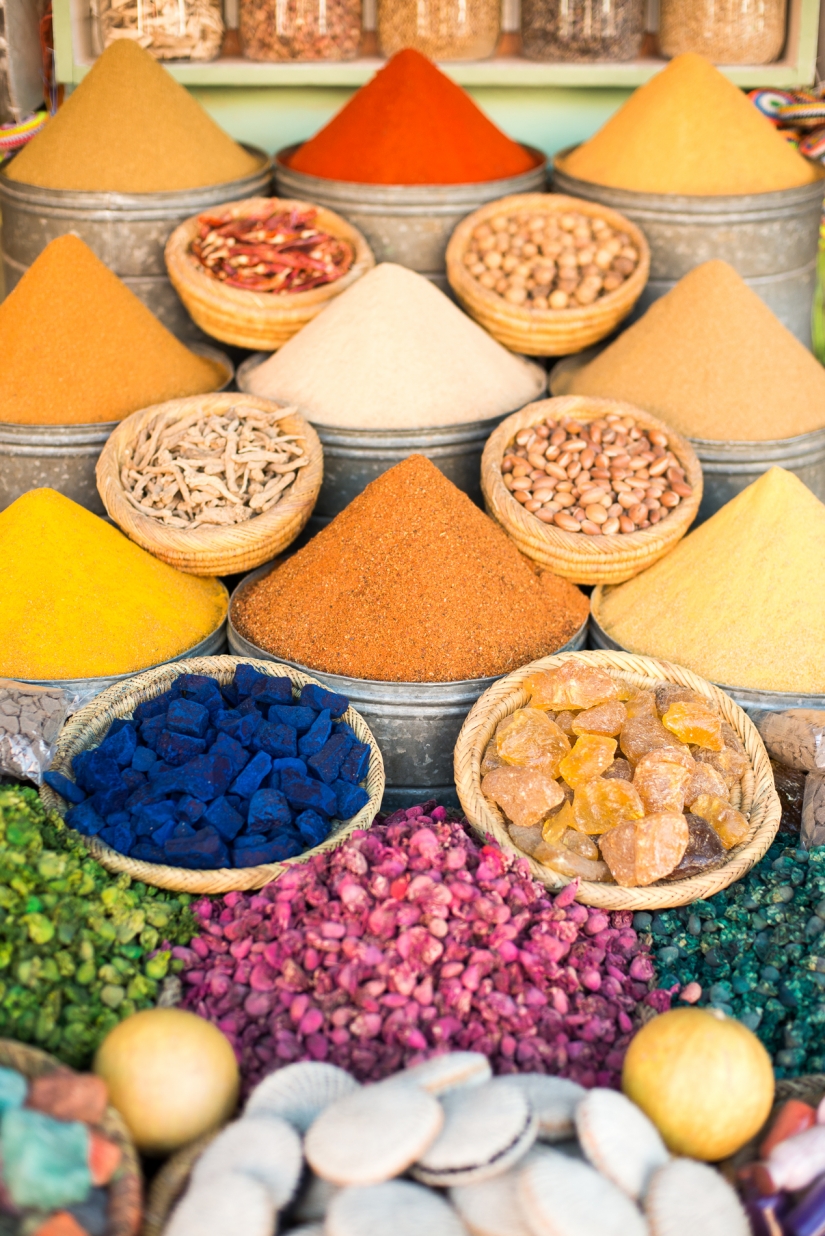 And one more note before I jump in: go to Morocco. I am not trying to gloss over all the problems and awkwardness and hassle, but it's worth it. We came for two weeks and could have spent longer. Our trip took us Marrakech - Merzouga - Fez - Chefchaouen - Rabat - Casablanca. With more time, we could have gone north to Tangier and south to Agadir. That said, we were tired when this trip was over and reluctantly ready to go back home.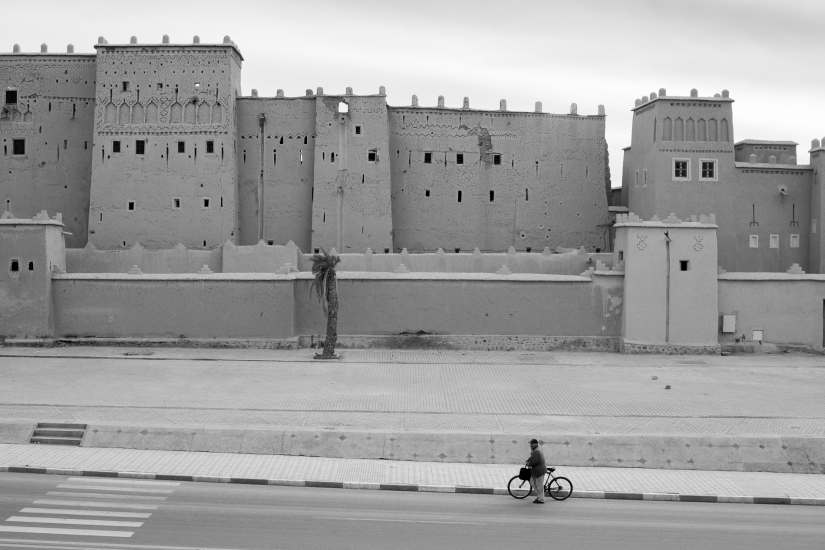 We've had a mildish winter here in Gothenburg, but it's been wintering since mid-September. That's a whole lot of cold weather to contend with. We left before the winter solstice, so the days were still on their way to shorter. Already, six weeks later, you can feel the change as more sunlight creeps into the early evening. But when we got off that plane to sunny skies and 20*C, it felt pretty damn good.

The airport and the airport shuttle were uneventful, but as soon as we stopped off the bus with our bags and headed into the medina (old town), we were assaulted both by sights (donkey carts!) and smells (snails!) but also a half-dozen young men who kept shouting at us about directions. We unfortunately had a bit of a tough time finding our riad, so we did eventually break down and pay someone to lead us there. This walking-around-being-pestered would be a constant during our trip.

Once we tucked our bags away and enjoyed a moment in our beautiful riad, we thought things might get better back on the street. We were mostly wrong. One really can't just walk around Marrakech and expect to wander and enjoy. It's loud and there are motorcycles driving past and every five seconds someone will yell "Square!" at you or offer to take you elsewhere. Coming from a place where one can walk about mostly unharrassed, it was a really big shock for us. We ducked into the Badhi Palace to escape the streets, but got kicked out just a few minutes later.






Everyone - guidebooks, internet - talks about how great Jemaa El Fna (the main square) is at night. We decided to try it. But just a few minutes after arriving, we (being polite Westerners and all) got suckered into a small chat with a lady who grabbed my hand and started putting henna on it. Then they extorted us out of $40.

We went back to the hotel in a bit of a daze (and in considerable social discomfort) and regrouped. We needed to toughen up and not be the wimpy Westerners who are polite at all costs and avoid confrontation.

One great thing about Marrakech was our lovely riad, the Riad Le Coq Fou. Don't bother googling - they don't have a website (a pattern I saw all over Morocco). All the hotels and things use booking.com - just go with it.

We saw this cat on a later day get into a legit knock-down-drag-out with another feline and got his little face all bloodied. Life is hard for the street cat.

The second day we hired a guide to walk us around. It was a more or less enjoyable experience, and the street hustlers definitely gave us more width when we were with a guide. Unfortunately, he did take us "shopping" a bunch and we sat through a number of awkward demonstrations before we said "yeah, we're not going to buy anything." On a related note: what do these people 
do
with the rugs? They don't fit in luggage - do they ship them? Everywhere we went, people were trying to get us to buy carpets. We did, of course, eventually purchase a carpet, but a tiny one that could fit in our luggage.

Our guide also happened to be a celebrity guide. Among other names he dropped, he said he gave a tour to Ed Norton. "I don't believe you," I said, at which point he whipped out his cellphone and showed me a picture of him and Edward Norton. So, there you go. We got the celebrity tour guide. But we still had to go through the song-and-dance about buying (and not buying) rugs. One of the highlights of the tour was a trip to the Ben Youssef Medersa - a truly stunning 13th century religious school. We saw a whole bunch of medersas while we were there, but I think the first was the best.




Leatherworking is a big deal in Morocco - mostly goat leather. Artisans leave their hides drying all over town, wherever they can get a square of sunlight. These small pieces were lined up next to the big mosque by us (Ben Youssef).

The best thing the tour guide showed us were the communal facilities for the neighborhood. Morocco's medinas look about the same as I imagine they did 400 years ago. They are tight, cramped, busy, and everyone knows everyone else. People actually live in these historic cities - unlike parts of Europe where they are "preserved" and a show for tourists. Our guide told us every neighborhood has: a mosque, a hammam (bath house), a food market, and a bakery. Throughout our trip, we would see children walking down the street with either loaves of dough or loaves of bread. They were taking them to the communal bakery. You drop off your stuff and come back a few hours later to pick it up. We also saw the furnace operator for the hammam. They might not all be powered this way, but the one we saw was coal powered, just like way on back in the day. The furnace guy also accepted some change to heat up the community's tanjias - big clay pots filled with stews. He's the slow-cooker for the entire neighborhood. I find this community fascinating and it feels like something from the past - something Europe used to do but lost.

It didn't feel safe to take pictures inside the souks (market streets), so you'll have to settle for this overview of an open square. It was exhausting walking around the streets (because you were being harassed constantly) so we spent a considerable portion of the afternoon in a cafe after our tour.


On our last day in Marrakech (of 3), we walked across town to the Saadian Tombs, incredibly beautiful burial places for important kings of the past.



The Koutoubia Mosque is the symbol of Marrakech and visible from most everywhere in the city (once you get up high enough).

We were thrilled to be getting out of Marrakech and into the countryside, but also nervous about the next step: a private four-day excursion into the desert. (We used Sahara 4x4 and they were great - happy to give more contact info). You may be thinking that it would be uncomfortable to drive around for four days with two complete strangers in a car. It was! But it was also great and the guys were more or less cool. And so we headed into the Atlas Mountains.

The Moroccan countryside is so beautiful - the little towns look like they were meant to be there. There is also an amazing diversity in such a small(ish) geographical area - we saw something like 15 distinct biomes.



Animals are much more integrated into Moroccans' day-to-day lives than I'm used to seeing. Many families had sheep or chickens and there are tons of donkeys in the medinas - used the way one would have a truck for deliveries in a place with wider streets.

The first day was mostly just driving and stopping at little places - an argan oil collective, mountain views ("Now we stop for a panoramic view," our guide Youssef would say something like 10 times a day) but then we came to the Aït Ben Haddou - a fortress in the the middle of the desert. It's so cool-looking they film a bunch of movies at it (like Gladiator).

If the photographers who read my blog notice my inability to keep the white balance consistent, you'll just have to deal. It was way red all over the place and the colors changed so much depending on the sun.




I took the opportunity to grab a photo of some souk-like action while there weren't people looking like they'd shout for us to give them money if I brought out my camera.

We continued on a bit further into the Dades Gorge...

And finally arrived at our beautiful estate-like hotel for the night.

This area reminded me a lot of the American southwest - red, red rocks and amazing geological features.



In the morning, we got back in the car and hit some more panoramic views.



I love that this hotel felt the need to spray-paint "Hotel" on itself.


More driving, then we were at yet another gorge: the Todra Gorge, and the oases that spill out of it.

It was warmer than Sweden, but it still wasn't that warm. Most days were hanging around 12-15*C.

Our guide Youssef.


We basically lived in this car for four days.

Then we drove and drove and finally arrived in Merzouga, which is pretty damn close to Algeria. We had made it all the way across the country. And the reason? 95% to ride camels and sleep in the desert. It was 
fucking unbelievable
, as you are about to see.

Youssef seemed to enjoy stealing my camera for a bit and took a ton of photos of us getting onto the camels.


Safely ensconced on these bizarre animals, we took off into the dunes.


What follows are a thousand photos of Erg Chebbi, the westernmost part of the Sahara and the only "real" desert I've yet to set eyes on. The landscape was surreal and incredibly beautiful and very hard to white-balance.












When I was in Israel (a time before I had a "real" blog or was very much interested in photography so no link), I slept in "tents" in the desert. This was nothing like that. These were luxury tourist pods - complete with electricity and 
running water
and a two-course meal and also a full-size bed on a frame. It was hardly "sleeping in a tent" but we did get to spend the night in the desert and sit around a campfire and look at the stars.




We woke up butt-early to scramble up the highest nearby dune and watch the sun rise.








There were tourist pods scattered all over the landscape. They all looked about the same, so I don't think we were ever going to get a real "nomad" experience in this ride-camels-sleep-in-the-desert thing.



This is George "sandboarding" down the dune.


And that is a wrap on the first part of our trip! I'm hoping to bust blog #2 out of the doors in the next couple days before I forget everything we saw and did. In the meantime, on the plane home I made a list of travel tips for Morocco. In case you're pondering a trip, here they are:
Get small change. You'll need it for the bathroom, tipping, giving to people on the street.
Just go ahead and give people money. If you spend the whole time carefully guarding your quarters, it will make you miserable. When someone begs, give them some change. When someone points you in the right direction somewhere, give them some change. We became far less uncomfortable and awkward when we stopped being so miserly and just ponied up a little dough to everyone (yeah, like, literally everyone).
Tip for everything. Tip the guy who gets your camel ready to ride. Tip the guy who shows you to your room at the hotel. Tip the guy who cuts up your chicken. You don't have to tip very much at all.
The best way to deal with people harassing you on the street is a firm "no thank you." The correct answer to each of these questions is "No thank you":

"Where are you from?"
"Square!"
"I like your hair / clothes / bag / anything."
"Would you like a X?"
"I show you (to X location)!"
"Where you want to go?"
"Please, come (into my store) - you don't have to buy anything!"
"Would you like this free X?" or "I give this to you, a gift, you don't pay."
"You speak English?"

If you speak a little French, practice before you go and bone up. Most people in the tourist trade speak English (and a thousand other languages), but the guys in the markets and elsewhere won't, but everyone in the country speaks French.
Ladies, carry TP with you. Most bathrooms don't have any. On the other hand, the bathrooms were mostly clean - much cleaner than you would find at equivalent places in the states.
WiFi was readily available pretty much everywhere - restaurants, cafes, hotels, etc.
Don't let the henna people henna you! If they grab your hand, grab it back before they get any goo on you. On the other hand, real henna artists do amazing work and it shouldn't cost much more than $15-$20 to get a full hand with a detailed pattern.
There are so many kinds of delicious bread in Morocco. Give up the low-carb thing while you're there.
The tastiest foods we ate had eggplant in them. If in doubt, get the thing with aubergines.
Make things as easy as possible on yourself on Day One. If you are staying at a riad that offers to pick you up from the airport, just pay the damn $10 or whatever. It's worth easing into the first day so you don't feel overwhelmed and anxious.
Buy your bus tickets in advance, especially from smaller cities. They sell out. If you buy earlier, you get to sit close to the front of the bus (less motion sickness over the mountains).
And those are my tips! Happy to talk about any of this stuff in detail. Morocco was not as easy to travel as many other places we've been, but it was perhaps more rewarding. Until next time!