We left off
in the desert
, so that's where we'll have to start the second half of my photos from Morocco. George and I got up before dawn, climbed to the top of the dune and watched the sun rise with a menagerie of folks from all over the world. Then we hopped on our camels and marched back to civilization.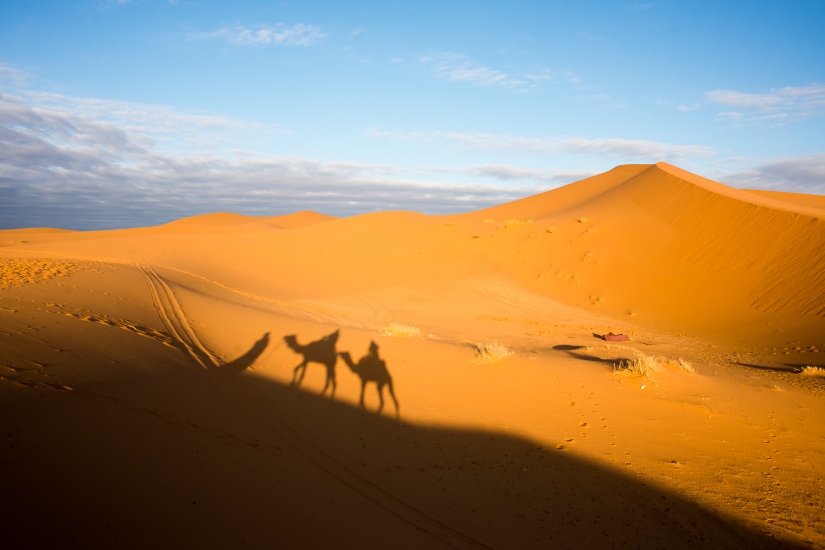 We had two more days with Youssef and Omar, who drove us all the way around the dunes (they are only 26km long). We visited a kohl mine, an abandoned mining town, a village populated by "black Africans" and also had tea with a nomad family.
Not gonna lie, the tea thing was really weird. We rolled up to this homestead with just a big family tent and a cooking fire. And then we ... went in and the lady made us some tea and we had a little chat. Omar said our host was his cousin and they all chatted in Berber for a while and George and I tried not to act like we were rich white westerners. It was uncomfortable for us but also fascinating to see how a nomad family lives. We were able to ask questions (translated by Youssef). For instance, the family moves every three months or so. It takes several hours by donkey to get to town to buy food and necessities.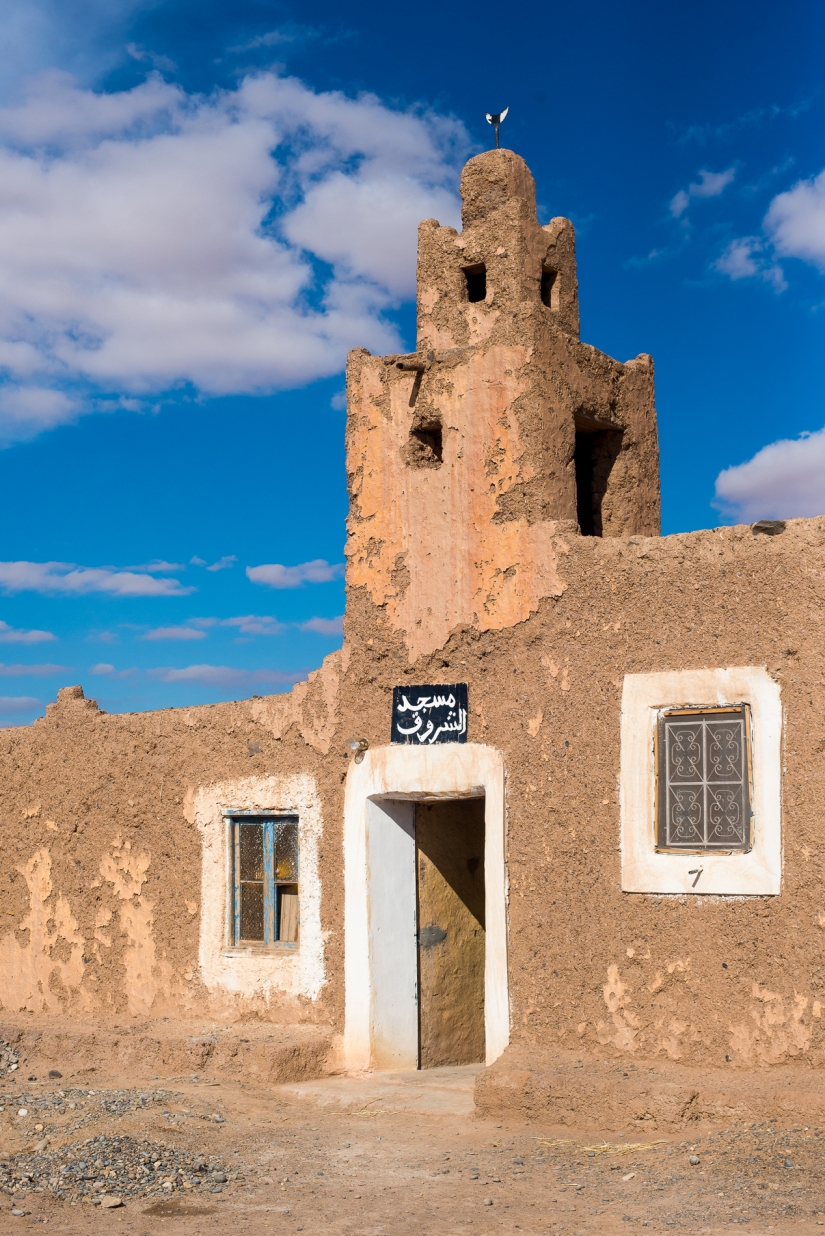 One of the coolest things we saw was this abandoned mining town. Back in the day, there were around 200 kohl miners at this site, but operations at the mine have slowed way down and now just a handful of workers are needed. These buildings, made from the surrounding materials, are slowly fading back into earth. Youssef's grandfather worked in the mine and his great-grandmother is buried at the small cemetery nearby.



One of hundreds of "panoramic views" we saw along the drive.


We had an early day and we spent most of it just relaxing. George was in his sick phase during this time, so he enjoyed the ability to sleep and hang out in bed. I spent most of the night attempting to download the Sense8 Christmas special, which never did finish loading. Eventually we gave up.

The road to Fes was mostly uneventful, except for a quick stop in the mountains to meet these monkeys! They were incredibly polite for "tourist" monkeys. They would just hang out til you handed them a peanut or an orange.


And then we were in Fes! After the relative peace of the countryside and leaving the safety of our guides, we weren't quite sure what to expect in Fes. We steeled ourselves for Marrakech #2 (and we had been told that Fes is even worse than Marrakech) but actually, we loved Fes.

That is probably 80% thanks to our amazing Airbnb hosts, Mohammed and Micaela. They own a little shop in the henna souk, which we visited several times. First to say hi and later to pick up provisions for the hammam. Each time Mohammed tried to load us up with soaps and incense and other goodies. They also invited us to have dinner in their home with an Italian couple. He was doing an anthropology research project on the "sounds of Morocco", which is pretty cool.



Morocco feels really traditional in many ways. Here's a street vendor. There are street vendors for tons of things: produce, candy, drinks, dairy, snails, everything. Some had carts and others would move things around on donkey. It was orange season, so there were oranges everywhere.






High above the rooftops of Fes.

The "blue gate", the other side of which is blue.








I feel like I've run out of things to say about these beautiful zellij decorations at the old Muslim schools.





One of Fes' most famous attractions are the tanneries. We managed not to make it to the most famous (Chouara) but we did go up to one of the leather stores' balconies to see the smaller set nearer our riad. These pits contain nasty things like pigeon droppings and chemical stuff, and workers stand in them all day, working the leather with their legs. When the leathers are done being treated, they are hung from the rafters you see to the right and lower left where they dry in the sun. The next day, they'll get a new treatment. It takes 2-3 months for a single piece of leather to be ready to be made into something. The fact is if you want to see the tanneries, you have to go into a leather shop and ask to go upstairs. Then when you come back down, you are basically required to buy a piece of leather. We dropped some serious coin in this leather shop, but George is happy with his things, so it's all good. It was really neat to be able to see the production.

This is the henna souk where our host had his little shop.

One of our most enjoyable days was a cooking class we took at the Clock Cafe. It was a full day of talking about food, eating, shopping and generally making merry. Our instructor was one of the most cheerful people I've ever met. First, we hit up the market to buy some provisions.

George volunteered to kill the chicken, but it was all just a trick - in the end, he just handed the thing back over.



Most of the time, I was too shy and afraid to bring my big camera out to photograph in the souks (though I saw plenty of people walking around with those things just swinging from their necks, so probably no big deal). But as part of a big group of folks, it felt fine.



We cooked and ate and laughed all day, then I met up with a lovely Finnish girl who was willing to go to the hammam with me. It was a very interesting experience. First, we did everything wrong and the ladies had to keep correcting us. The wrong bowls, bringing too many products, then too much product, wearing a top, splashing around. Eventually, we managed to more or less bathe.

We were in Fes for five days, which is lots but not long enough to feel like you've seen everything. One day, we headed over to Meknes and Volubilis, which is skippable.

I did, however, enjoy this mosaic of a dead bird and another that's about to get it.


And that was Fes! We hopped on a four hour bus ride through the mountains and wound up in Chefchaouen, the "blue city."



As you can see, it's one of the most atmospheric and beautiful places I've been. For reasons that are under significant dispute, the town has been painting its walls blue for quite a long time. Up until something like 100 years ago, there had never been any Christians in town - they were not allowed to visit. Somewhat recently this law was removed and now there are significant numbers of tourists. Still, it felt much more calm in this town and we could mostly just walk around and not feel harassed.







We had a day and a half in Chefchaoen (even though it looks like more because I am posting so many photos). We walked up to the Spanish Mosque in the morning.



There were lots of cats everywhere but the ones in this town actually looked pretty healthy.





I wanted to see Rabat, but our plans only allowed for a stopover on the way between Chefchaouen and Casablanca. But it really worked out because Rabat gave us a solid six hours of entertainment. First, we saw the ocean.


And then the Hassan Mosque, with its lovely, giant ruins and also the crypt of ... some guy who died not that long ago. And when I say crypt, I really mean an explosion of gold and zellij and decoration.


Chellah, ruins in the middle of a lush garden.



A short train ride later and we were in Casablanca for our last day. Our adorable host was this little old French woman who spoke only a few words of English. I pulled out my years-ago Duolingo French and we managed a complete conversation... sort of. In any case, we ended up having an enormous apartment all to ourselves, which was just great. And we also saw the Hassan II Mosque, which is the main thing to do in Casablanca. It is the largest in Morocco but only the 13th largest in the world. And I can tell you: it is really freakin' big.






George attempting to go walk out to the water, but the rocks were too slippery.

And that is a wrap on Morocco! I had a bunch of tips in
my previous blog post
about ways to enjoy yourself in Morocco, so check out the end of that guy if you're looking for some advice. Otherwise, clearly, you should make plans to go. It was challenging, rewarding, reasonably tasty, and an undeniable feast for the eyes.