So first thing, I have to share that I am super-excited to have been accepted into the
Wedding Photojournalist Association
.  When I first started out, I was searching for photographers to
second
for and my entire first set of contacts came from a WPJA list for Washington, DC.  It was really my jumping-off point for wedding photography and I'm very honored to be able to join its ranks. And it makes me think of how my "photojournalist" approach to wedding photography came about.  I suppose I probably always intended to be unobtrusive but there is one particular moment, at the second wedding I ever photographed, where it really cemented.  I give you Colin and Sara, who have been featured on this blog plenty, but whose actual wedding photos never made it here: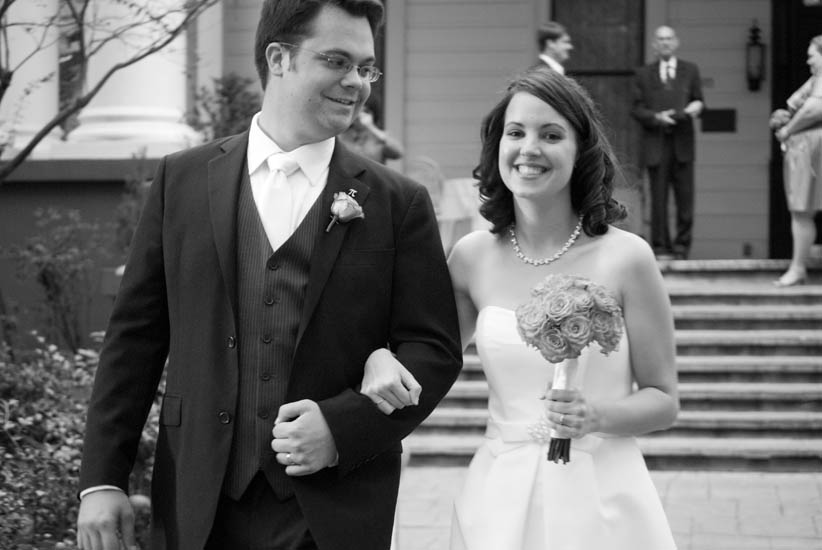 So this image is clearly not my strongest work.  I was using inferior equipment and my shutter speed wasn't fast enough to make Colin and Sara sharp as they walked away from their ceremony.  In fact, I didn't include this image in my portfolio selection to show those first WPJA people I wrote.  That is, until Sara told me it was one of her favorite images from the wedding.  Not her portraits (those are sharp) or the dancing - instead the way Colin is looking at her, how happy she is, their bests standing in the background.  It was something I learned early - that what really matters is expression, moments, personality. While Sara and her ladies were getting ready, she wanted to do a champagne toast to everybody.  They got all the champagne poured and everybody was holding their glasses.  "Now everybody look at me and smile!" I said.  Sara stopped me: "No, no, I want this to be
real
."  I consider that simple exchange (an embarrassing one for me, to be sure) to be a really important first step in developing my approach to weddings. So when I'm at a wedding now, priority number one is not getting in the way - particularly during the ceremony.  A wedding isn't a production or a stage show and it's not about photography.  My job is to capture what happens, not to falsify anything going on and not to disrupt.  I'm frequently asked at client meetings how much I will "stage" or "pose" during a wedding day.  And my answer is this: I pose bride and groom portraits and family formals, and take "say cheese" photos during cocktail hour.  When a bride puts on her dress, I might ask her to stand in the best light in the room, but then I back off and let her have her moment with her mother, maid of honor or whoever is helping her.  I'd say 90% of my coverage is completely unposed and undirected.  And that's why it's such an honor to be a wedding photographer - it might be just me with the bride and her father before she walks down the aisle; or just me and the couple as they walk away from the ceremony.  And when my couples trust me to capture the moment but stay out of the way, it really is the greatest part of my job. So to Colin and Sara and each of my couples, thank you for trusting me and thank you for being you.