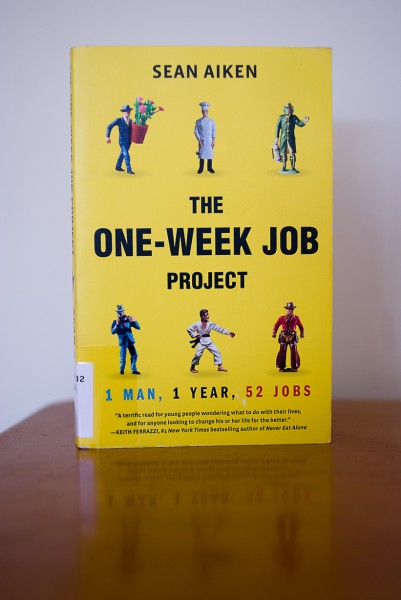 The major problem I had with this book is that it's not quite what I thought it would be.  The other problem is that it was written by a 25-year-old for 25-year-olds.  Apparently I require a lot less navel-gazing than other people my age.
The One-Week Job Project
is about Sean Aiken's quest to find a job he is "passionate" about.  He travels around Canada and the United States in a variety of roles, boosted by some media coverage he received over the course of the year.  I must have caught some of that coverage because I knew about the book before it even came out. I thought it might be a short overview of 52 different careers.  Instead it was a somewhat pedantic quest for the author to "find himself."  It also quickly devolved into a love story of sorts featuring, naturally, the author. It was an entertaining enough read but I can't say I'd recommend it.  Also, I realize this isn't the best of book reports.  But it's my kind of book report.
12 Books
This post comes to you as part of
E
's
12 books in 12 months
project.  The goal is to read 12 books in a year - 12 books that we might not ordinarily be too motivated to read, but that have been on your to-read list.  Next up:
Infinite Jest.
1.
Story of O
, Pauline Reage 2.
The Four Hour Workweek
, Tim Ferris 3.
Sex at Dawn: The Prehistoric Origins of Modern Sexuality
, Christopher Ryan and Cacilda Jethá
4. The One-Week Job Project, Sean Aiken
5.
Infinite Jest
, David Foster Wallace 6.
Surely You're Joking, Mr. Feynman?
, Richard Feynman 7.
Portrait of the Artist as a Young Man
, James Joyce 8.
Light in August
, William Faulkner 9.
For Whom the Bell Tolls
, Ernest Hemingway 10. At least one book from my photography collection, TBD. 11.
Year of Magical Thinking
, Joan Didion 12.
A Scanner Darkly
, Philip K. Dick