Update Jan. 2012: A wonderful lady looking for a wedding venue for her daughter wrote me to let me know that Winkler does not rent out their lodge or their grounds for any reason, including weddings.  So look here no further for that... but it is still a nice place to walk around and would still make a nice spot for a portrait session.
It's unlikely you've heard of
Winkler Botanical Preserve
.  First, it doesn't have a website.  The park isn't owned by the city and so doesn't show up on those lovely parks sites I've been
talking
about
.  My link there is to the Friends of Winkler group, which recently won their battle to prevent the park from being torn on down to make way for more condos - nice job Friends!  Second, the park is at the end of a completely nondescript street chock-full of apartment buildings.  I would never, in a million years, have thought to look for a botanical preserve down the street.  Indeed, the sign is completely grown over when you're driving from the east.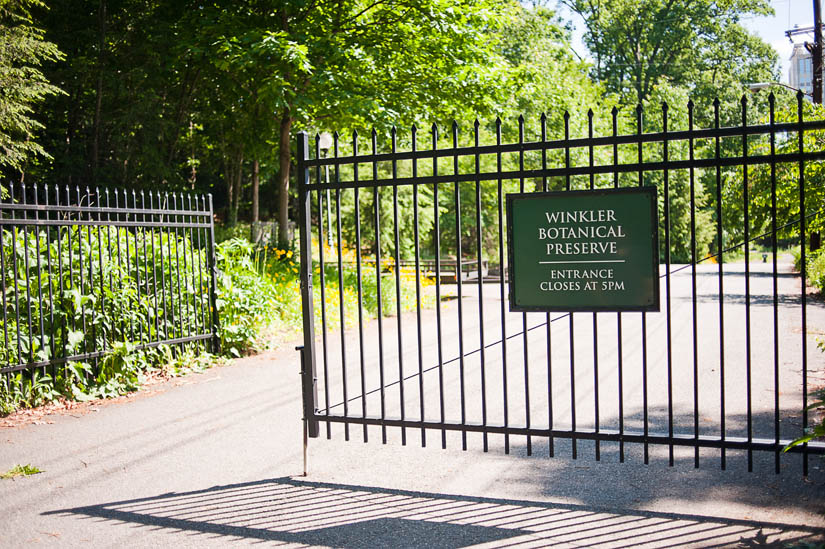 But if you do manage to make it, you'll be amply rewarded.  The park closes at 5pm, which makes it really not ideal for portrait sessions in the afternoon.  There are plenty of shady areas, but it still limits things quite a bit.  I think this would be a beautiful setting for a portrait session much later in the year - perhaps during fall colors!  For all those early risers, 8:30 seems to be the opening hour. And can you have your wedding here?  There's a lodge, and it certainly looks big enough to accommodate maybe up to 50 people, but I could not for the life of me find any information about it!  If this place piques your interest, try the Friends website and get on the phone with someone.  There's a staff, they must somehow be available for conversation.  If you find something out, let me know so I can update this page! The preserve is on the site of a former pig farm (awesome, right?) right in the heart of the bustling, crowded Mark Center in Alexandria.  Yes, you can hear the highway throughout the park, but it's also a beautiful, tranquil place to take a little walk with your sweetie. I was pretty seriously disappointed to learn that this beautiful waterfall is actually man-made.  "Did you really think there was a waterfall in the middle of Alexandria?" George asked.  Well, yes, I really did.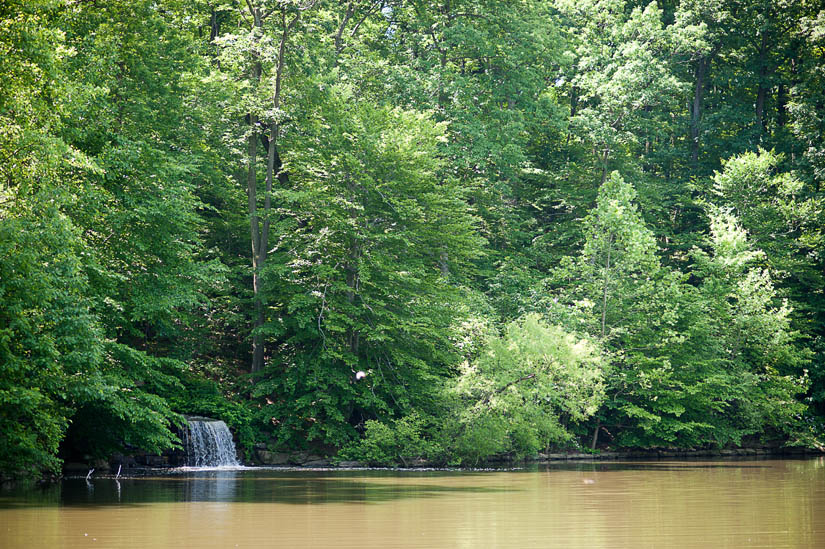 Look at this super-cute little bridge!  There are plenty of options for rockin' this thing - it'd definitely be a highlight of any portrait session.  Did I mention I love bridges?  I guess we'll have to add that to benches and stairs...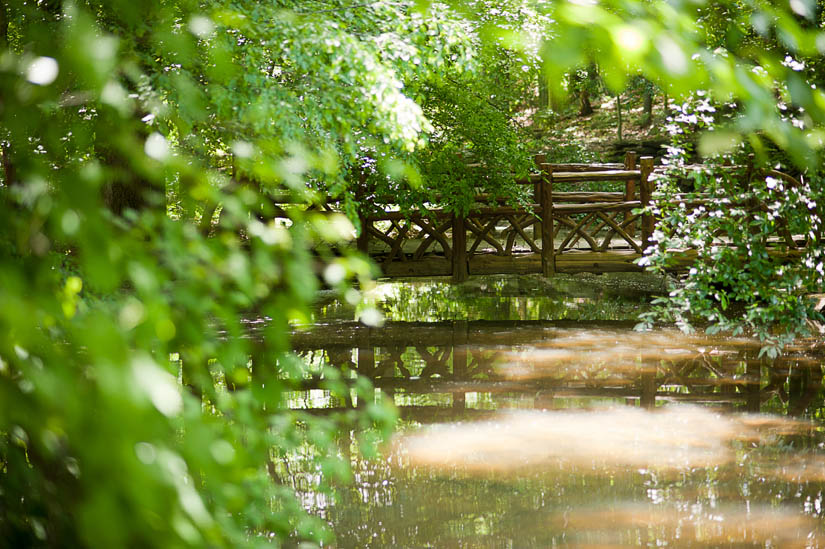 And so since I was there anyway, I went ahead and photographed some of the flowers and lichen and such.  You know, for good measure.  I'm a big fan of turning pictures of flowers to black and white.  It's not as common to see and a lot of these plants have great shapes you can accentuate by robbing them of their distracting hues.



George, posing.  Really harsh light at mid-day when I was there, but this would be a great spot later in the day.  I think I shrieked a little when we turned the corner and saw this little beach jutting into the lake.


And here we have a portrait just for David Emerson, who I'm sure will be reading this post sooner or later.  David has been harassing me for photos taken with the D700.  So David, I am now telling you that all the photos in this post were taken with that camera, and most of them with the 35 (like these below, others with the 85).  I think the photo on the left looks the most distinct from pictures I have previously taken on the cropped sensor, but I don't have enough experience with the camera to really say if it's the larger sensor or if it's just the lens distortion I'm not used to (going from essentially 50 to 35).

And if that's not enough of a review for you, every wedding from here on out (save Claudia & Eddie, which is coming in a few weeks) will be shot on the D700, so you'll have plenty of opportunity to see my new camera in action. And that's all for Winkler Botanical Preserve, folks!  As always, f you're interested in a portrait session at the Preserve, please drop me a
line
.  Til next time!