Yesterday was a really big day for civil rights (though we must admit that Wednesday was a pretty shit day). I'm sure you've heard about DOMA and Prop 8 already, and honestly a lot of the legal stuff is really confusing to me. There's still plenty to be sorted out and still a long road ahead for full marriage equality. I hadn't planned to go down to the Supreme Court again, but when my building lost power and I couldn't be home working, it seemed like the place to go.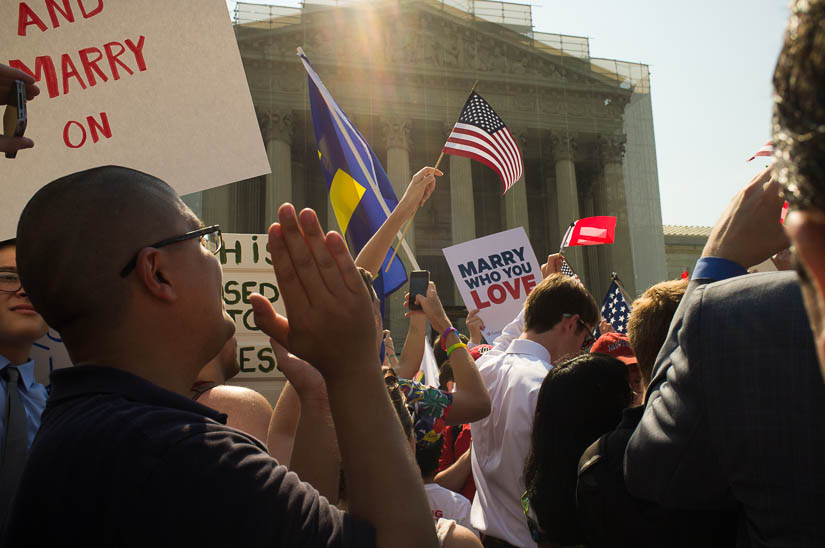 I'm very lucky to live so close to these institutions that shape our lives. I love that I can, on a whim, head down to the Supreme Court to witness history. We stood in the blazing sun for a good half hour, chatting with those around us and holding our palms up like visors. We got on tip-toes to see if something was going to happen on the steps… no one seemed official. Sweat dripped off everyone's foreheads and necks. And then a cheer erupted ahead of us, and spread through the crowd like a wave. "Wooo! Yeah!" we shouted. "What are we happy about?" Everyone looked around in confusion. Some people were very excited, somewhere else in the crowd, but why are we excited? We started pulling out our phones, checking Twitter and news feeds. "DOMA is unconstitutional" @SCOTUSblog tweeted.
It's somewhat awkward for me discussing marriage equality. I was legally married without hiccups, get full spousal rights automatically and enjoy all the privileges of having a man-woman legal marriage. But marriage equality is extremely important to me, and yesterday feels like a big victory. But how much am I allowed to cheer? How much am I allowed to celebrate? I don't want to overstep my bounds – I can join in this fight but it's not mine to win or lose.
I had thought about doing some kind of promotion in celebration of the SCOTUS rulings yesterday – freebies for same-sex or non-heteronormative couples – but isn't that sort of what we're working against? If love is love is love, you all have to pay!
Suffice to say that I'm thrilled with yesterday's rulings. The country has made a dramatic shift in its thinking about same-sex marriage over the last couple years, and yesterday will be just one blip on the journey to full marriage equality. There's work to be done, but in the meantime, come on down and get your wedding photos.