Hejsan, y'all.
Last update 
came to you from the beginning of summer and this one comes to you from the (let's be realistic) end. Gothenburg has a very brief "summer" and then we slip back into rain rain rain, darkness and cold. It could be worse! We could be waaaaay up north and get excited when it gets over 10*C. (Did you know it's a further 16 hours by car to the Arctic Circle from where I live? Sweden is huge.)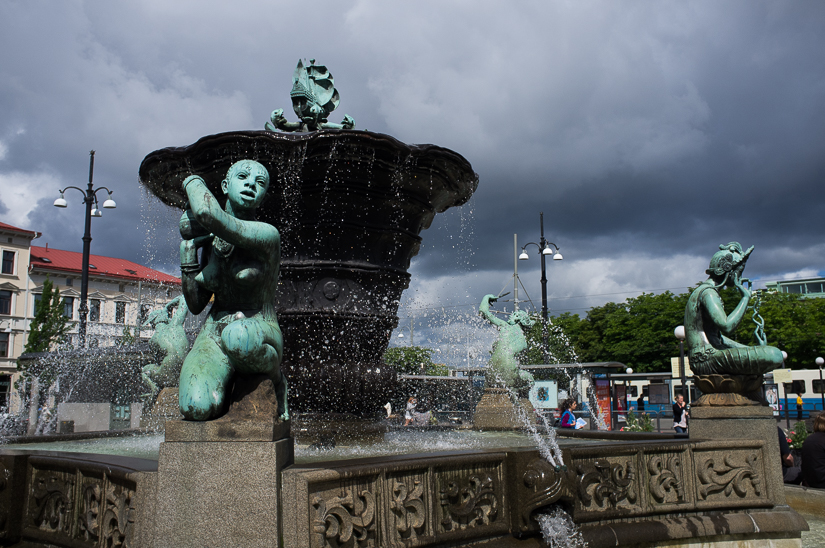 Those three glorious weeks we had in June... that was pretty much summer. It's been ok here, off and on - a day here and there where it's really pleasant out. But mostly it's been raining a lot and not all that warm. We've got our collected fingers crossed that we'll get some more good weather here in August (when we visited last year it was really warm) but for me, summer is over starting tomorrow anyway.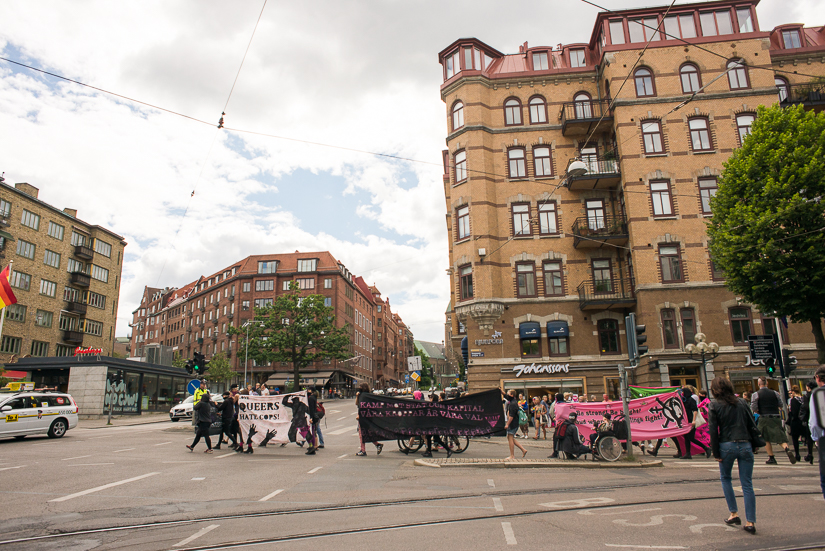 Yes, I start this bootcamp that will hopefully be a move into a new career tomorrow. I'm excited and a little nervous, but mostly ready to get to work. I like working and I love learning things. And I like the idea of being a coder. Starting tomorrow it's code all day every day until I know the ropes, so my days of lounging by the sea have come to an end for this year. But with summers like this, it doesn't seem like that big a sacrifice.
Obviously these images come from the Pride Parade back in June. Clearly I'm just a spectator but Gothenburg's Pride seems much more subdued than DCs. There are also way more boobs and less dick about. We saw lots of women just full-on naked in the street (some of them painted). I felt mad creepy taking pictures of them, so I didn't. But the festival itself came with all kinds of great activities, including free pap smears with bonus candies!

Actually, we found ourselves at the stage at one point and they were doing choreographed dancing and we were having *so much fun* until we realized we were inadvertently participating in an exercise class. Whoops!



Jobb = job. This is the employment agency marching. Honestly, the parade was pretty lame - it was a lot of government agencies and companies with a bunch of employees just walking down the street with rainbow things happening. I was like "where are the QUEENS?" But maybe if you have a more equal and accepting society, your parade gets really tame. It's not a bad trade-off.


All over town, these women (and a few men) sit outside the grocery stores and ask for money. They don't really do much except sit there and say "hej" to everyone that walks in or out. It's very non-aggressive. Mostly they just seem really bored. I enjoyed seeing this lady dancing and having a good time - sometimes we forget that people who have to beg on the street are *people* and they like doing fun things like dancing just like the rest of us.

I talked about this a bit on
Instagram
too, but one difference between Sweden and the states is that everyone is more ok with bodies here. Naked bodies on the street, pregnant ladies with their bellies way out, communal saunas and there's no such thing as a "nude" beach because it's ok to get naked at any beach. Swedes are just more comfortable in their own skin and ok with seeing other peoples' skin.

And then it was Midsommar! Lacking some kind of traditional, organized, countryside Midsommar affair, we hit up the official city celebration at a park downtown. They had make-your-own flower crowns, a giant "maypole", traditional dancers and lots of people looking cheerful and having fun. We had amazing weather that day.


The first climax of Midsommar is dancing around the pole. There's a ton of songs with choreographed dancing. Everyone forms concentric rings around the pole, then you dance left and right and do hand motions and kick a bit. It's great fun!

The second climax is going home, eating a ton, and getting shitfaced. George and I cooked a metric asston of food for a bunch of assorted friends and colleagues. I got properly wasted but it seems no one else did (or so I was told). As I understood (understand) it, Midsommar is the one time you're mandated to get properly drunk, so I did. 
I
had a really great time, anyway.

Finally made it to Röda Sten before we moved. They had a really cool exhibit about climate change and things. This is giant plastic sheet suspended from the ceiling by a million pieces of yarn.

George did a lot of traveling in August, so one Saturday I made it out to Marstrand for a sailing competition. I honestly didn't understand the sailing at all - they moved back and forth and it honestly seemed like they were going kind of slow and the "track" was really small. But in the end someone won and people seemed excited. It was completely, ridiculously, windy so I didn't stick around near the sailing bit that much.




I ate crazy-delicious seafood soup in this little place.

Gothenburg has an event going on this year called "Green World." They've set up a bunch of different art installations dealing with nature. There are a bunch of "pocket parks" on the main strip downtown, a huge bamboo installation near the state theater and a number of really cool arty things in the botanical gardens. There's all kinds of crap like this in town - Gbg has a lot going on.


And then, we went to Stockholm! We had *the best* weather in Stockholm (it was 10 degrees colder in Gbg the whole time we were there). We saw tons of stuff and also managed to spend a couple hours every day just chilling drinking beers and such on patios. City Hall:



Patio #1 was on a rooftop and it was sooooooo nice. We spent an hour or so just listening to music and completely chilling out.

Moderna Museet: meh. I've seen too many freakin' "world class" museums at this point to get excited about something with no big names or things I recognize. (Other takeaways from visiting a thousand modern museums: Picasso was damn *prolific*. Literally every modern art museum I've been in has a bunch of his stuff.)


Some kind of band concert in the Old Town's main square.


Museum Island.

Ok, Stockholm was kinda great - lots of stuff to do, pleasant to look at, lots of good patios to drink on. But the *best* part was Bunny Park. For some reason the park we walked through between our hotel and downtown had a whole family of bunnies living in it. Urban bunnies! They were out almost every time we went through, day or night, and they weren't very scared of people. They were damn adorable.


It's basically impossible to take a good picture of the Vasa, but here's a crap one. This was worth the $14 entry fee or whatever. They pulled an *entire* ship out of the harbor and built a museum for it. Crazy!

A sign maker who took his job too literally?



We did a whole bunch of stuff in Stockholm but mostly it was just a pleasant time, walking around and eating. George hates outdoor museums, apparently. He did not dig Skansen, but I liked it.


One of the coolest things we did in Stockholm was a tour of the metro art. We managed to completely screw up the meeting place the first day but they had another tour that fit right in with our train time. We got to see really neat art grottos and the like. Highly recommend and it's free!

I just haven't been taking that many "regular" photos, though I always have my camera on me. I guess I'm letting that slide for a while. So I don't have very many day-in-the-life stuff to show. Sorry! Here's some other things that happened:
George is doing good. He's in Edinburgh right now experiencing the Fringe Festival, again. He was supposed to bring me but then I signed up for this coding camp that starts tomorrow. So I suck but hopefully it will be way worth it.
We saw Dropkick Murphys at the big amusement park in town. It was free with admission, so that's cool. They put on a damn good show.
We moved into our new apartment in Stigbergstorget. It's big and beautiful and I really, really like it. Except for the ants. When we moved in, there were ants colonizing the place and we've tried to beat them back over the last few weeks but they are still hanging around. They occasionally drive me batty (especially when they start wandering into the bedroom). No solution there... we're just... trying to kill the ants.
I finished Swedish classes two weeks ago. I haven't been practicing like a good girl but that's ok. I can only focus on one thing at a time. These last two weeks I've been focusing on relaxing before I fall off a coding cliff. Stockholm, then moving and the associated stresses and things. This week I've played a ton of Dwarf Fortress.
I went to the Volvo Museum. They had a lot of cars there.
Final photo comes to you from a Pokemon Go meetup yesterday. Organizers estimate there were 700 of us. 700! Playing Pokemon Go! It's crazy. I spent a good week being Pokemon Go-obsessed but it's died down. I still like playing - it's fun thing to do when you're walking between places - but I'm no hard-core player anymore. It is fun to take part in such a crazy global phenomenon.

That's pretty much it! You likely won't get another update until after the bootcamp, but I'm always up for a chat or an email exchange or whatnot. Life is just rolling along...